Multisensory word work practice plays an important role in developing fluency with sight words and phonics patterns, but center rotations go by quickly. When my students visit the word work center, I want them to get to work quickly and engage with the materials in a focused and meaningful way. This can be difficult to accomplish if those materials are disorganized or if pieces begin to go missing. In this post, I'm sharing my favorite storage solutions for my multisensory word work materials.
This post contains Amazon affiliate links. This means I may earn a small commission at no additional cost to you should you choose to make a purchase through my link.
Magnet Letters
Magnet letters are a great choice for multisensory word work. I love that my students can attempt to spell a word, study their work, and easily manipulate and switch out letters if they observe an error. If you are storing these in a small baggie for each student, you may find that your kids are spending a lot of time searching for individual letters. Using a magnetic tray to store letters in abc order can save a lot of time! It also prevents letters from going missing because you can easily see if the entire alphabet is present with a quick glance at the tray.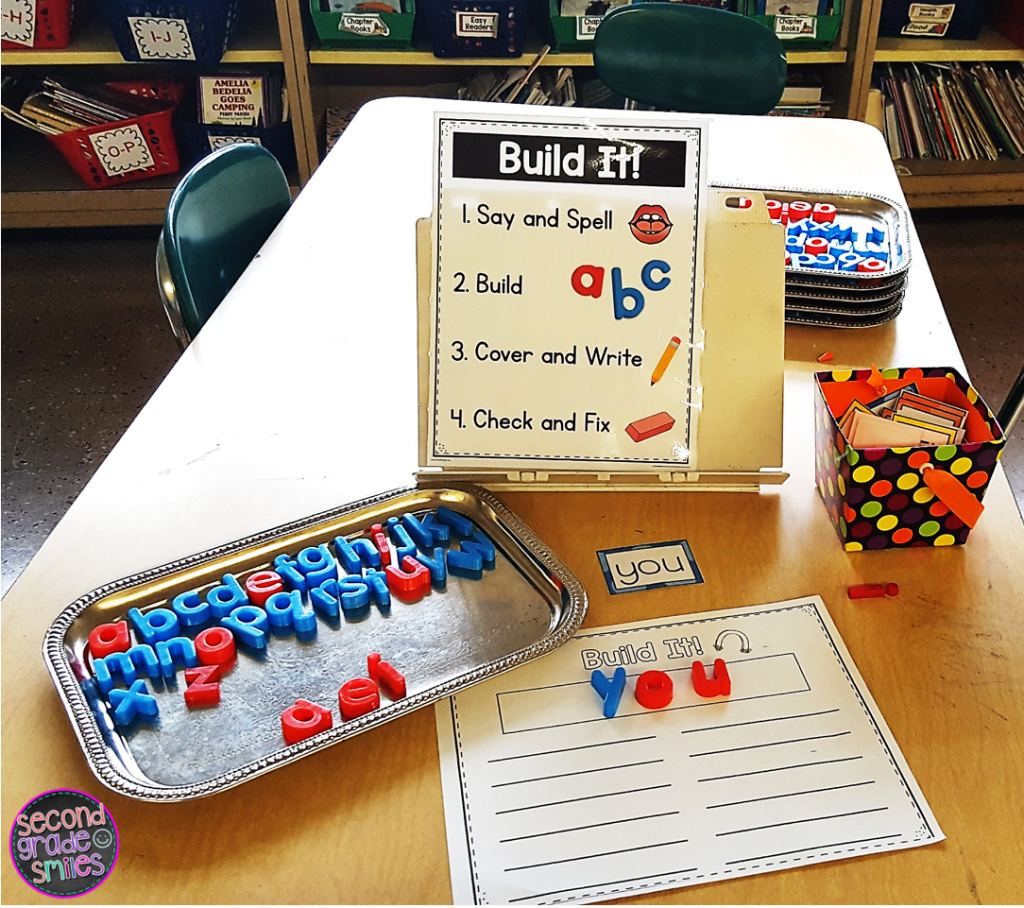 I purchased the mini serving trays shown above in the party section of my local Dollar Tree a few years ago and they are still going strong! You can also use small cookie sheets for this purpose. When I taught first grade, I found it helpful to trace the letters with a Sharpie to make it easier for students to return the letters to the correct spaces. In second grade, my classes have been able to keep the trays well-organized without the added lettering. I find it helps to teach students to return the letters to the tray after each individual word is built.
Of course, some words may require multiples of the same letter. This is especially common when we are working with long vowel words. To help with that, I include an extra set of vowels at the bottom of the alphabet on each tray. I also discuss and model how to kindly ask a friend to borrow a letter from his or her tray. After some practice, students do a great job lending and borrowing respectfully.
Letter Beads
I love that my students are strengthening their fine motor skills alongside their spelling skills at this letter bead word work center. These letter beads came in a large tub. It might seem sensible to simply place that at your center, but with several students digging for letters in the same container, you will likely find that very few words end up being made. Students are able to be much more efficient if beads are organized alphabetically in a multi-compartment container. I like this one because it came with the letter stickers already attached. I just needed to sort my beads by letter and drop them in! To save time at clean up, I instruct my students to build one word at a time and then return the bead to the box before beginning the next word.
Unifix Cubes
If you have older unifix cube sets, don't toss them! You can easily turn them into a fun word building center by writing letters on the cubes using a Sharpie. Students can connect cubes to build their words. To save time, I store each set of cubes as a long alphabetical train. Each student has his or her own alphabet to work with at the center table and is responsible for leaving the cubes connected in abc order for the next student. You can add an extra mini-train featuring an additional set of vowels if the pattern your students are working with requires it.
Scrabble Tiles
Scrabble tiles are another nice choice for a word building center and you likely have an old Scrabble game hanging around at home you can borrow them from. (If not, head to a local garage sale, or check Facebook Market Place for an affordable set.) These are also perfectly sized for those jewelry or letter board storage containers. Just make sure the container has compartments that are at least 1 inch x 1 inch in order to fit your tiles while leaving room for little fingers to manipulate them easily.
Letter Stamps
The stamping center is always a hit with my students. I love these stamp sets from Learning Resources because they come in a container with individual compartments for each letter. No need to buy an additional container for storage! Combine that with laying down a table cloth over my center table and clean up is a breeze! I store a folded plastic table cloth under my stack of stamp sets in my cabinet. That way, I can always find it when I need it.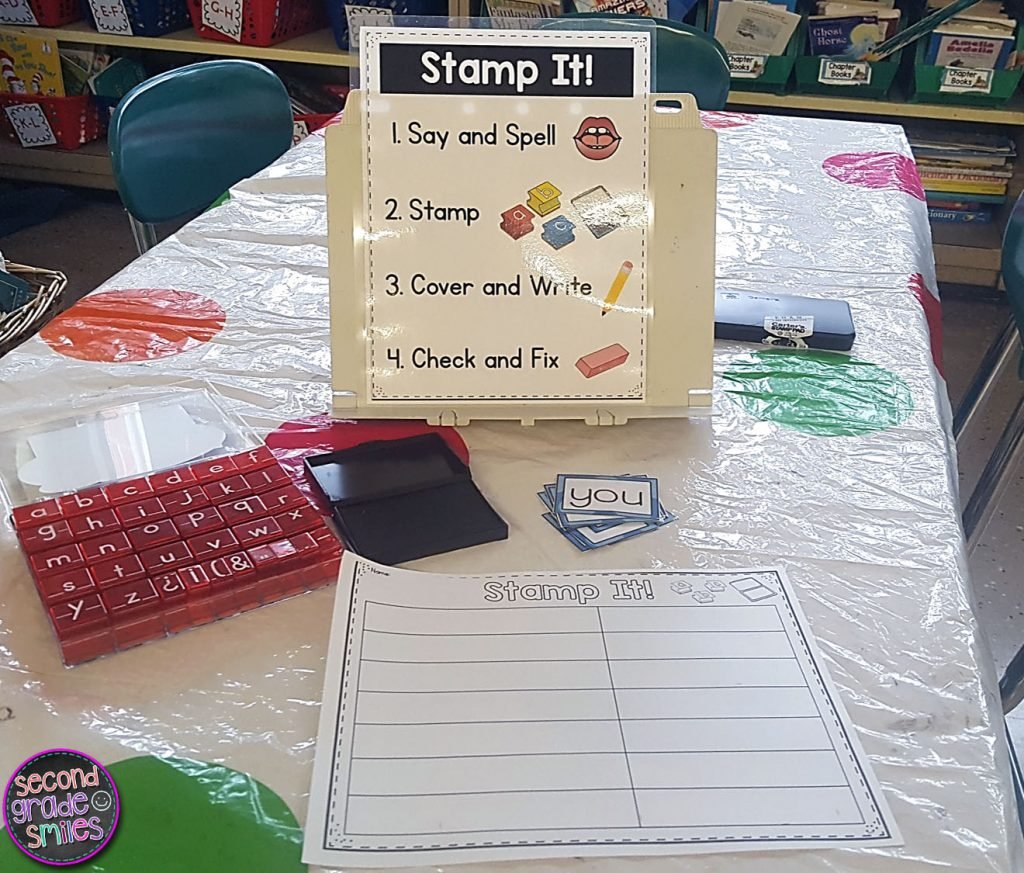 Curious about the multisensory sight word centers with visual directions shown in the photos? You can read more about how I use them in my classroom in this post.
Setting Clear Expectations
These multisensory word work storage solutions work best when you can rely on your students to clean up efficiently and ready their center for the next group. I highly recommend taking the time to set clear expectations for material use and clean up, modeling those expectations, and holding students accountable consistently. In my classroom, we do not switch centers until all materials are properly organized. It takes some time at the start of the year to get it right, but it is so worth it! Check out my tips for stress-free centers if you are interested in learning more.
Happy teaching,