The leaves are changing colors, you're feeling the crisp fall air, and Halloween is just around the corner – which means your students might be having a bit of a hard time focusing on your adjective lesson! Fortunately, I've got some fun ideas for teaching adjectives and descriptive writing that are just right for October. Your students will be having so much fun that they just might forget about counting down the days until trick-or-treating!
This post contains Amazon affiliate links to some of my favorite picture books. This means I may earn a small commission at no additional cost to you should you choose to make a purchase through my link.
Hunt for Adjectives in Halloween Picture Books
Halloween picture books are fun to read and the perfect place to find some chilling descriptive adjectives! Students can identify examples of adjectives and the nouns they describe, sort adjectives by the sense they appeal to, or simply create a running list of interesting adjectives to use in their future writing. My favorite Halloween texts to use for adjective hunts are Scary, Scary Halloween, In the Haunted House, and Room on the Broom. Read a story aloud and chart the adjectives you find together, assign students partners so they can search in pairs, or make it an independent literacy center. Whatever you choose, this is sure to be fun practice for your students!
Feel & Describe with Mystery Bags
This is a super-engaging activity to expand vocabularies and get your students using interesting adjectives! Place objects of varying textures into brown paper lunch bags with one object in each bag. Then, allow your students to close their eyes, reach in, and think up as many adjectives as they can to describe what they feel. (If you think your students might be tempted to peek, you can walk around with the bag held above their heads and have them reach in.) They can record their ideas on this free mystery bag printable. After everyone has had a chance to list their adjectives, chart all the ideas. Then take guesses on the mystery object before your big reveal! Some fun mystery objects to try are cooked spaghetti noodles, playdough, and grapes.
Build & Describe Monsters
Here's a creepy craftivity sure to get your students excited about descriptive writing! Students choose from a variety monster heads, eyes, noses, and feet to each build a unique monster. After building, they can use the descriptive paragraph organizer and adjective list to plan their descriptive writing. Final writing copies can be attached to their monsters for a fun hallway display throughout the month of October. You can take a closer look at this activity in my Teachers Pay Teachers store. I've included several writing paper options, including a fill-in paragraph, to help you differentiate the activity and meet the needs of all your students.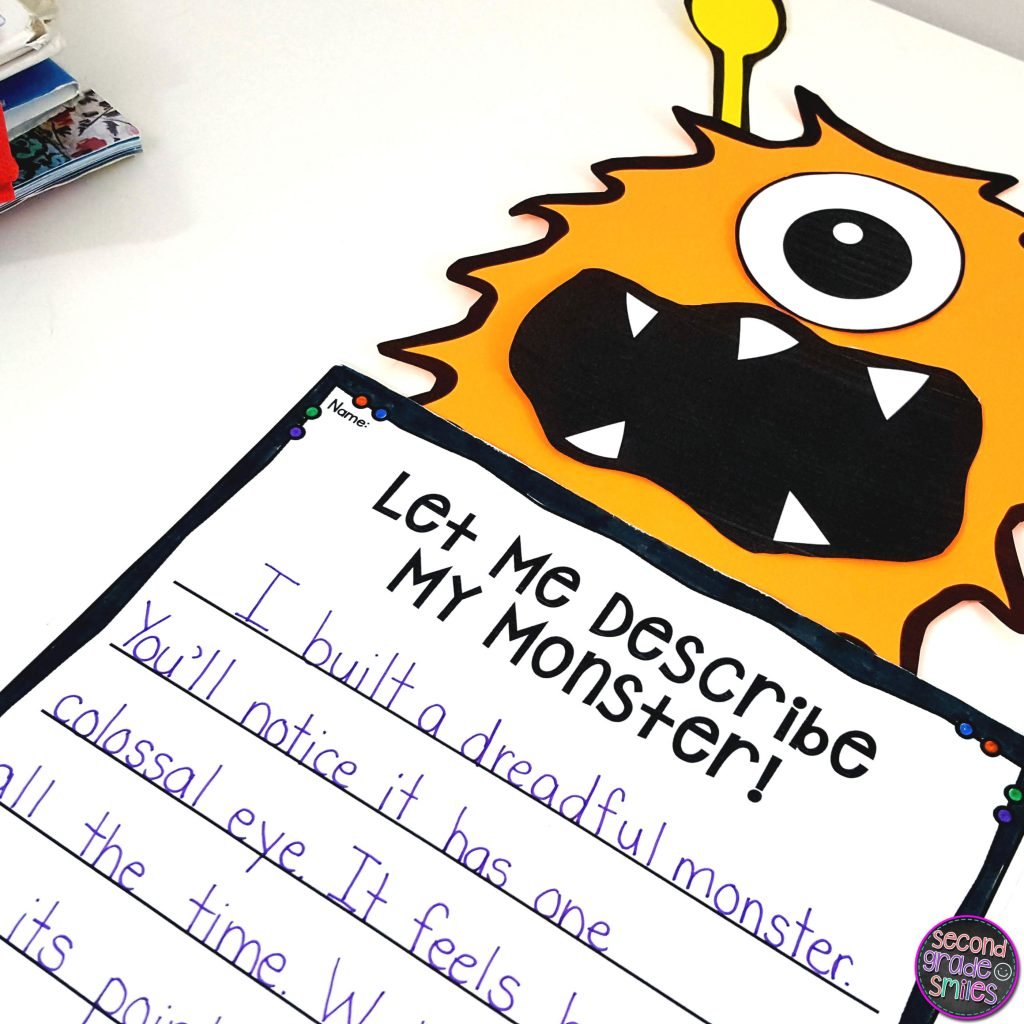 Paste a Spooky Descriptive Writing Prompt
I love these monthly Paste a Prompt writing prompt sets! They give students fun options for writing, but still ensure that they are practicing the writing genres we are focusing on in our lessons. The descriptive writing prompts in my October set are always a hit because students love writing about anything spooky or sweet! You can see an example below and find the full October Paste a Prompt set in my TPT store.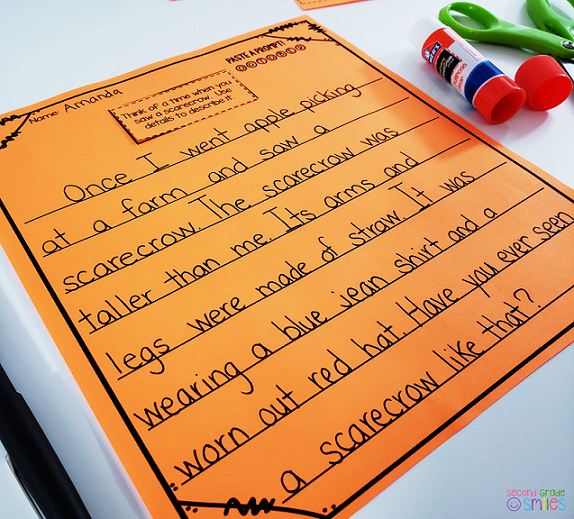 I hope you found some new ideas for teaching adjectives in October! If you have other favorite activities, I'd love for you to tell me about them in the comments!
In the mood for more October teaching ideas? Head on over to this post, where I'm sharing my favorite October read aloud books and some free writing prompts!
Happy teaching,