I love that running daily learning centers in my classroom gives me the opportunity to work with small groups and differentiate my guided reading instruction. It also encourages my students to build independent and partner work skills. Over the years, I've learned that thoughtful planning and routines are key to setting up my classroom for success with learning center activities. If you are thinking about trying centers for the first time, or if your center time feels a bit chaotic and needs a reboot, check out my tips for stress-free centers below!
This post contains an Amazon affiliate link. This means I may earn a small commission at no additional cost to you should you choose to make a purchase through my link.
1. Set Clear Expectations
Really talk up how much fun learning center activities can be to your students and how you are trusting them to be responsible learners during center time. Then pull out your anchor chart paper and brainstorm expectations that will keep your centers running smoothly together. Examples might include: stay at your center, ask three students a question before interrupting the teacher, use whisper voices, share materials kindly, be a good partner.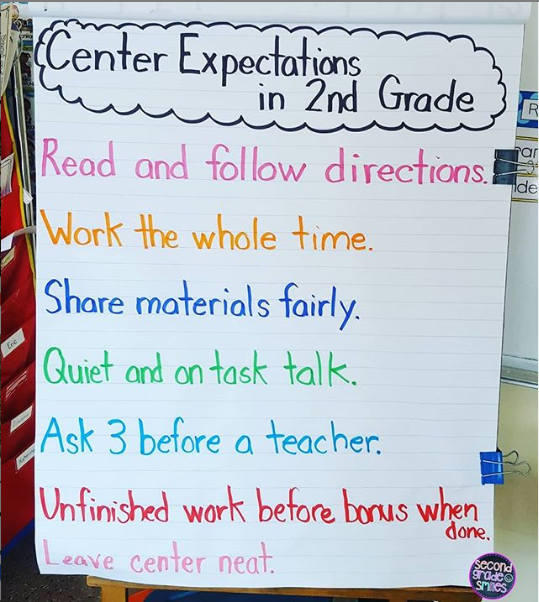 2. Model & Praise
Take the time to have students model what each of the expectations you set above looks like (and does not look like). Then be consistent in holding students accountable to meeting them. Praise those who are student role models and hold them up as examples. If students are not meeting an expectation consistently, go back to square one. Stop, explain the expectation again, and ask them to model it for you. This takes time, but consistently putting in the effort at the start will help your centers run smoothly all year long!
3. Prep Materials and Expect Them to Stay Put
When your students arrive at the center, everything they need should be right there and ready to go or they should be well-rehearsed at bringing their materials along with them. Use bins and / or pouches to store items like notebooks, paper, crayons, scissors, glue, and pencils. Teach students to clean up the materials before moving along to the next center and do not allow them to move on until they have cleaned up appropriately. This also may take some time in the beginning, but they will get faster with practice. You can always add some fun by making center clean-up into a little contest. Occasionally rewarding the group who cleans up most quickly or most thoroughly can be great motivation! Find specific ideas for storing multisensory word work materials in an organized way in this post.
4. Make Learning Center Directions Clear and Accessible
Model each center and then give students a reference to look back to if they forget what to do. Include visual direction cues where you can. This is especially important if you have a significant number of early readers or ELLs. Check out my Sight Word Centers with visual directions (shown below) for an example.
5. Use Familiar Center Activities with New Content
When possible — and especially when you are just starting out with centers — repeat activities with different content. Just change out your word lists, task cards, or game cards. In my classroom, I assign my Let's Build Hands-On Word Work Activities weekly, with only the phonics patterns changing. After a few weeks, my kids know the routine and can jump right in! When students are working on an activity they are familiar with, you'll have fewer interruptions!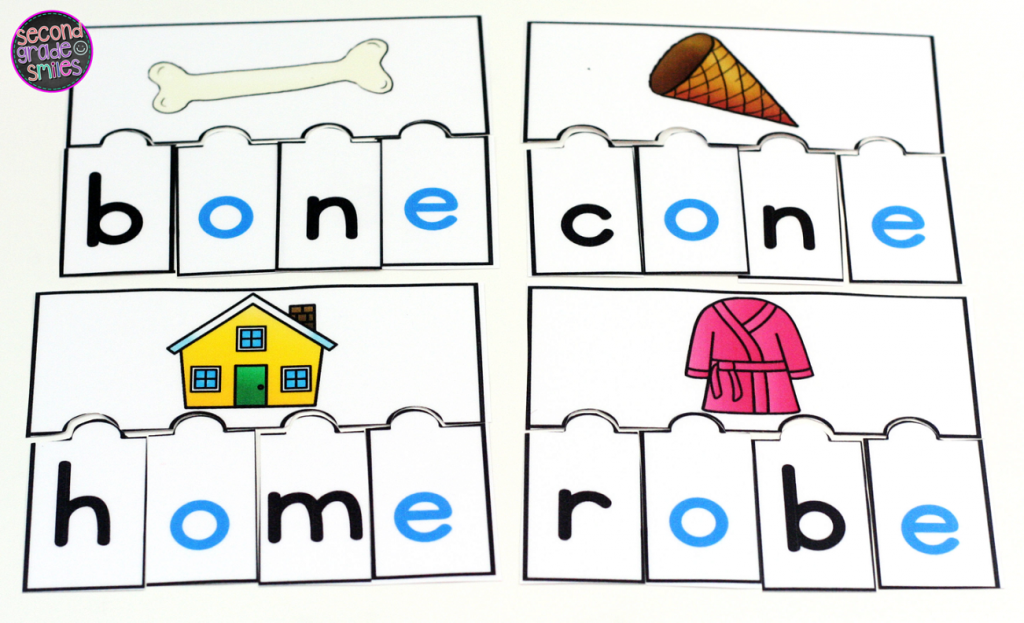 6. Plan a Turn-In Spot
Students need a clearly marked and consistent turn-in area for their work. I use a clearly labeled bin for each center in my room, but many teachers use folders or mailboxes. Make a plan that works for you and your students!
7. Plan for Early Finishers
When students have nothing to do, they are more likely to be found doing something that you would rather they didn't do! I write a bonus activity on a white board at each center daily. If that seems like too much planning for you, create an anchor chart of early finisher options or a cart of early finisher activities that you can change out as you have time.
8. Plan for Unfinished Work
In my classroom, my students keep their unfinished assignments in a pocket chart labeled with their names. This allows me to clearly see who has work that is not done. I also plan about 15 minutes of "catch-up time" at the end of each day for students who need more time. On Fridays, unfinished written assignments are stapled and sent home as weekend homework. There are many solutions for unfinished work from folders to turn-in clips – be sure to find one that works for you!
If you have additional suggestions for helping to make learning center activities stress-free or questions about how I run my centers, please post them in the comments. I'd love to hear from you!
Happy teaching,