We all know math concepts build upon each other. Students with strong number sense (meaning a firm understanding of quantities and place value, and the ability to work flexibly with numbers) have a definite advantage. As a classroom teacher, I wanted to build up those skills in all my students to pave the way for later success. The problem? It was really hard to squeeze that daily number sense practice into our short math block! Searching for solutions, I found that the safe, supportive atmosphere created in morning meeting made it an ideal place to bring that additional number sense practice in and begin to build proficiency with the Standards for Mathematical Practice. Spending just fifteen minutes a day on math practice in morning meeting made a huge difference!
Here's what daily math practice in morning meeting looked like in my second grade classroom.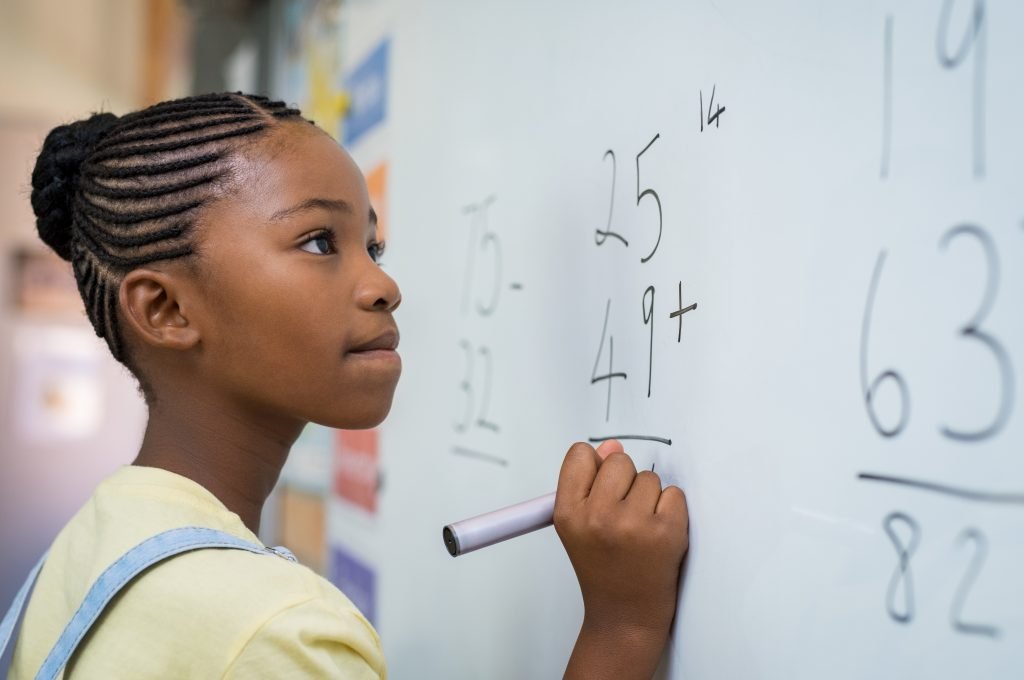 This post contains Amazon affiliate links sharing some of the materials I used to support math in morning meeting. This means I may earn a small commission at no additional cost to you should you choose to make a purchase through my links.
Daily Math Practice Problems
One quick way I was able to incorporate a little math practice in morning meeting was to add a few math problems to the bottom of our daily interactive news and announcements board. As students completed the day's announcements, they would also complete the math problems. At the beginning of the year, I added simple math facts, like 3 + 4 = ___ and ___ + 1 = 12. As students gained new skills, I branched out to adding and subtracting 2-digit and 3-digit numbers.
Regardless of the level of the problem, the routine remained the same. I would give all the students a few moments to study the problems. I would then ask them to put a hand on their head if they agreed with all the answers or raise a hand if they saw an answer they disagreed with. After everyone had a bit of think time, I would ask a student to talk us through their thought process. As the student spoke, other students would use the "me too" hand signal or give a thumbs up to show agreement and support. If a student had trouble explaining his or her thoughts, I would ask if anyone in the class could help provide a sentence starter. I'd then write those sentence starter ideas on the board for all to reference as we talked through the problem.
With this simple daily practice, my students' ability to explain their mathematical thinking became so much stronger! They also began to take on strategies they learned from peers and make them their own. I'd often hear things like, "I was thinking about how Darius used making a ten to solve 32 +18 yesterday and I did the same thing to solve 42 +28." This is exactly the kind of connection we want our kids to make! It's also a great illustration of Common Core Mathematical Practice 7: Making Use of Structure in action.
Math Problem of the Day
Word problems can be challenging for many students, and that is especially true for my school's large population of English Language Learners. This made Mathematical Practice 1: Make sense of problems and persevere in solving them an area I wanted to be sure to focus on. To bring in daily practice, I posted these 100 chart riddles in a big hundreds chart pocket chart in the front of the room with the riddle side facing out. Each morning, as part of our morning meeting routine, we revealed the number of the day by reading a riddle and discussing multiple ways of solving the problem.
I would often also build upon the riddle by posing related questions. For example, if the riddle poses a simple math vocabulary question like "How many cupcakes are in one dozen?", we would go on to discuss how many would be in two dozen, three dozen, and a half dozen, and come up with several ways to find each answer. Many times, this will include coming up to the whiteboard to write an equation or draw a picture, or going over to the hundred chart or number line to demonstrate a strategy there.
This is another daily opportunity to work in those Standards for Mathematical Practice! MP5 is Use Appropriate Tools Strategically and MP4 is Model with Mathematics – exactly what students were learning to do here. You can also extend the conversation even further by asking students to agree or disagree with one another, or decide which tool or strategy would be the quickest or easiest to use. This brings in yet another Standard for Mathematical Practice, MP3: Construct Viable Arguments and Critique the Reasoning of Others.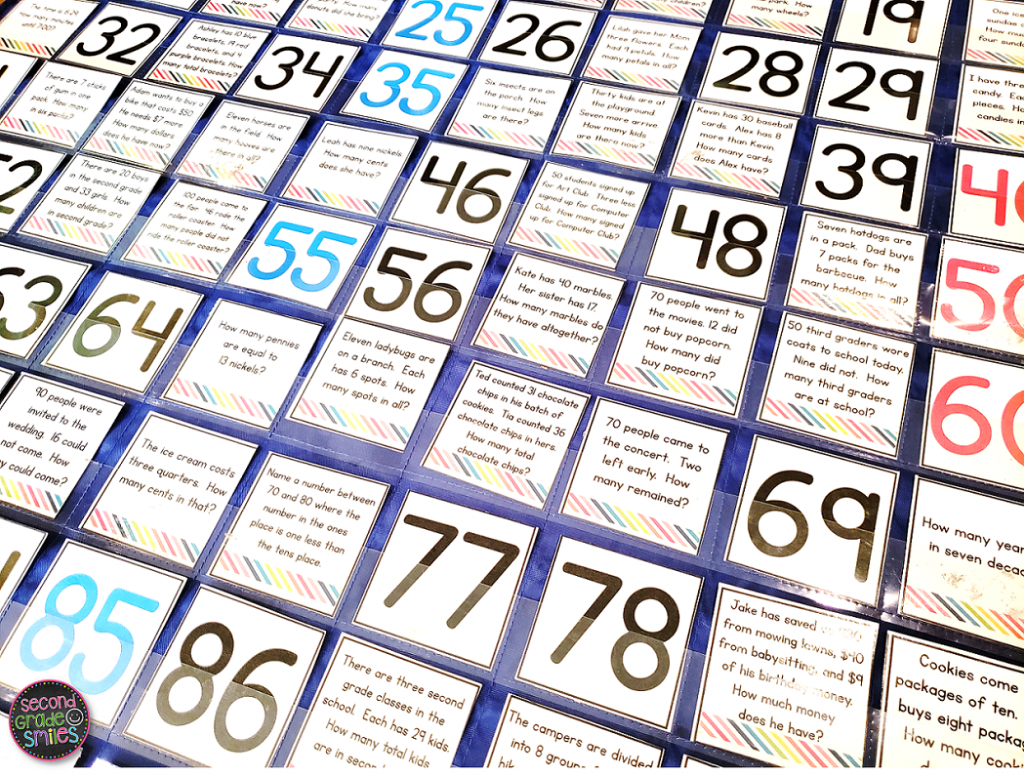 What happened once all 100 riddles were solved and the chart was completed?
After the riddle is solved, the number on our hundred chart remained flipped forward. We continued solving one problem per day until the hundreds chart was completed. At this point, I moved the completed chart to another area of the classroom and put up a second number riddle chart with the numbers 101-180. This way the problem solving fun continued until our last day of school!
Didn't students catch on to the hundreds chart patterns?
They did! Eventually, many students could predict the answers to the riddles before doing the work of solving the problem. This actually was a good thing! They were looking for and making use of structure in noticing those number patterns! (That's MP7 again!) Being able to predict answers using that structure also provided a scaffold for those that were a little stuck. It made students more confident in their answers as well. That allowed them to focus on explaining how they got there. It's really the class discussion of strategies and tools that was powerful – not finding the correct answer.
Number of the Day Work
In my classroom, the answer to our daily word problem described above also became our number of the day. Number of the day routines are a great way to touch many standards in a very short time. I like to add in a bit of math talk here as well. I might ask a student if they agree or disagree with a prior students' response or to explain why another student's answer is correct. This keeps everyone engaged, continually practicing math vocabulary, and building metacognitive awareness.
Here is a list of number of the day skills we frequently practiced:
one more / one less
ten more / ten less
one hundred more / one hundred less
odd / even
identify the number in the ___ place
give the value of the digit ___
expanded form
build with magnetic coins
build with magnetic base ten blocks
name a number greater than the number of the day
name a number less than the number of the day
share an equation equal to the number of the day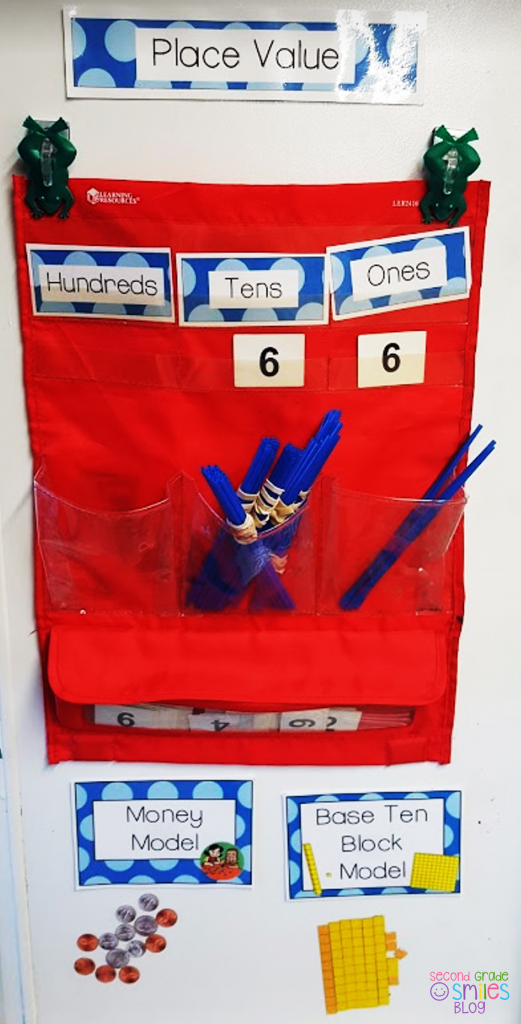 I most often reviewed these skills orally, with think time given using a "blow it in your hand… release" prompt from Whole Brain Teaching. They could also be practiced on individual whiteboards or with a number of children coming up to a piece of chart paper or the chalkboard.
If you'd like to use the labels shown above, you can grab a free copy here. Just print and laminate!
Charting Temperatures
Charting daily temperatures is one final way to help students notice and think about relationships between numbers every day. I used a digital window thermometer to display the daily temperature. A student then read the temperature from the thermometer and recorded it on a huge printed thermometer. Next, he or she recorded the temperature on our dry erase calendar with the appropriately color-coded dry erase marker. I found that color-coding the temperature segments and providing matching dry erase markers helped students to more easily recognize and discuss temperature patterns. Keeping a daily record also allowed us to compare temperatures across days, weeks, and months. This was a great opportunity to practice math vocab like greater than, less than, and equal to.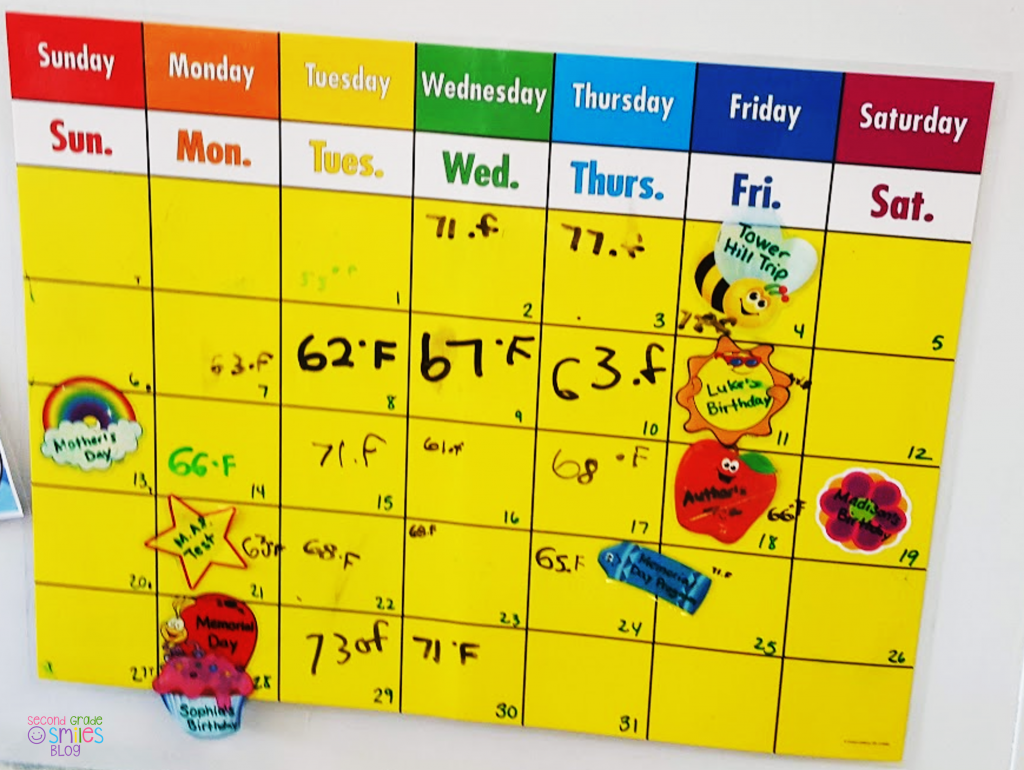 Charting temperatures also provided daily exposure to a vertical number line and a little precursor to rounding and expanding numbers as students had to find the group of ten and count up by ones when marking the thermometer. This can be a challenge for beginning second graders, so it was something we started out talking through together. When students were ready to try it independently, I would often ask everyone to check over the work carefully and give a thumbs up or down to show agreement or disagreement. If an error was made, a peer would talk the student through how to correct it. These quick discussions provided a nice opportunity to focus on attending to precision, which is Mathematical Practice Standard 6. Before long, some began to notice that it was sometimes more efficient to find the greater group of ten and count down.

So, is math part of your morning meeting routine too? I'd love for you to share your own tips for daily math practice during morning meeting in the comments!
For those of you teaching virtually, hop over to this post to learn a bit about how you can incorporate number of the day routines digitally.
Happy teaching,