I don't know about you, but the 100th day of school always creeps up on me! We get back from the holiday break, get rolling with midyear testing, throw in a snow day or two, and suddenly the 100th day is just days away! In my school, the kindergarten and first-grade teachers typically have all the fun counting-to-100 activities covered. By second grade, the kids are a bit over bringing in 100 items and counting them up, but they are definitely still young enough to want to celebrate the 100th day of school and have some fun! Today, I'm sharing my absolute favorite 100th day of school writing activity. It's just right for those older primary grades. Second grade and third grade classes have loved it!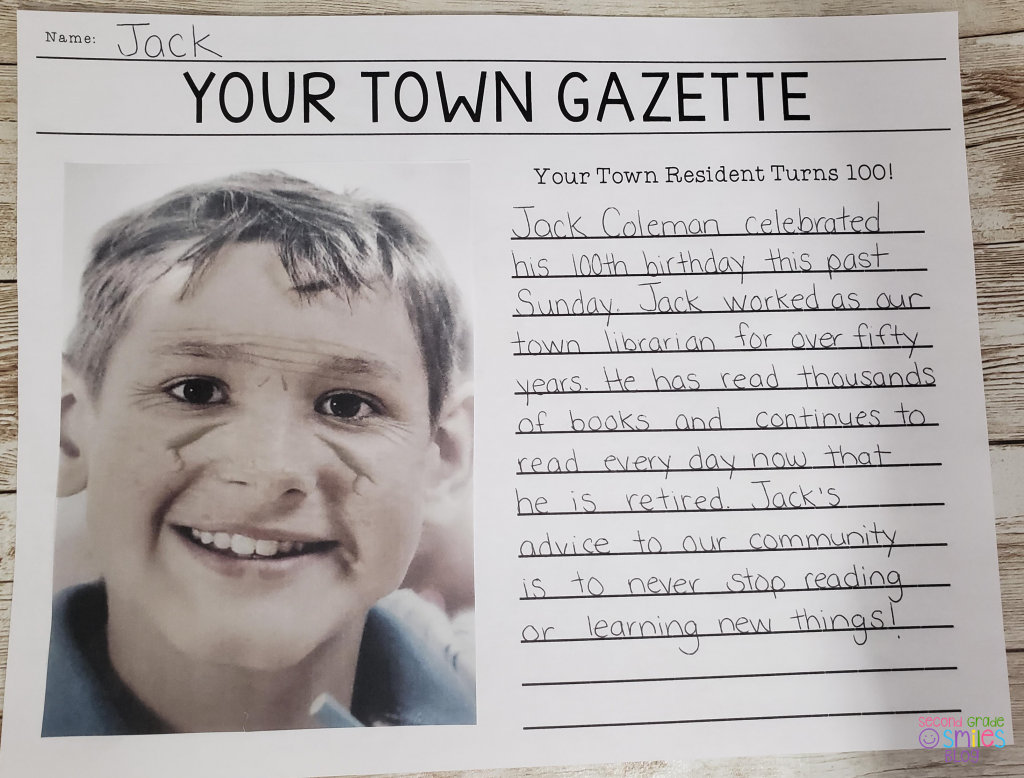 Hook Your 100th-Day Writers
If you haven't seen the Aging Booth app circulating on social media and given it a try, you'll want to start by downloading it to your phone. It's totally free and easy to use, and it ages any portrait by about 100 years! Take a photo of yourself with this app, save it, and print it out for a fabulous lesson hook. I usually make a big production of it by telling the kids that I took this photo of myself to remember the 100th day of school because I'm just so excited about it. I slide the photo onto our projector and they laugh like crazy! From that point on, they are all in!
Write a Newspaper Article
Around this time of year, we are typically working on past tense verbs in grammar. This makes for a great connection to the 100th-day writing activity. I tell the kids that we are going to imagine that 92 years have passed. A reporter from our local newspaper is interviewing them to celebrate their 100th birthday. He or she wants to know all about the amazing life they have lived. Then, I model writing my own newspaper article reflecting on my life. While modeling, I'm sure to pull in ideas from students and emphasize the use of past tense verbs. I also model ending with a piece of advice they'd like to share. That model also stays up for students to reference as they write their own articles. You can grab an editable version of the newspaper page here. Just type in your own town or city name in the headline before printing and copying.
Add 100 Year Old Photos
Use Aging Booth to take photos of your students before they write. Then, just save them to your phone and send them off to a one-hour photo or your printer. One advantage of taking the photos in advance is that having the visual sometimes helps prompt students' thinking — but if you think your students might be a little over-excited and distracted by the photos, they can always be taped onto the writing at a later time.
Support and Scaffold
As you observe and support students' writing, be sure to check that they understand that they are writing from the reporter's point of view. This can be a little tricky. Sometimes it helps to have them begin with something like "I interviewed _________, who just celebrated her 100th birthday!". Remembering to use past tense verbs can be another sticky point. If your students need support with this, it may help to create a quick anchor chart of ideas before they write. It might look something like the chart below. You might also consider pairing up students as editing partners to check one another's work for correct verb usage. Like all of us, I find that students are often better at editing someone else's work than their own!
I hope your class has tons of fun with this 100th day of school writing activity! If you'd like your whole school to share in the fun, it also makes for a super fun hallway bulletin board. If you give it a try, I'd love to know how it goes!
Happy teaching,