A chill is in the air and it's a great time to dust off your favorite October read alouds! Here are a few of my favorite pumpkin-themed stories, along with a couple of slightly spooky options for those of you celebrating Halloween with your classes. You'll also find a link to receive free printable writing prompt pages to go along with each of these October read alouds at the bottom of the post.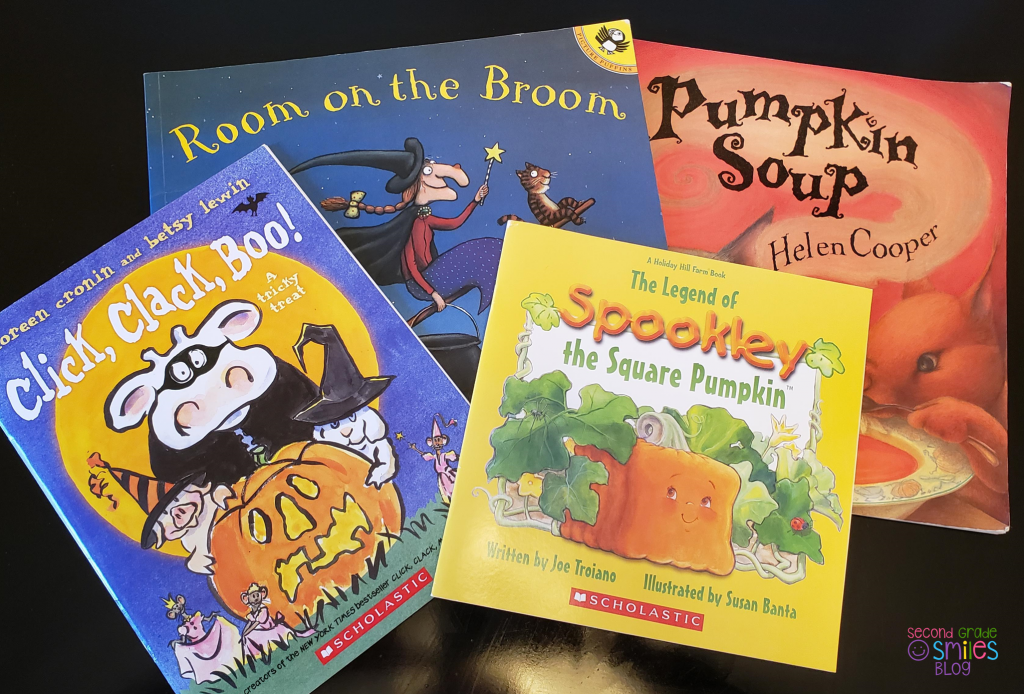 This post contains Amazon affiliate links to some of my favorite October read aloud books. This means I may earn a small commission at no additional cost to you should you choose to make a purchase through my link.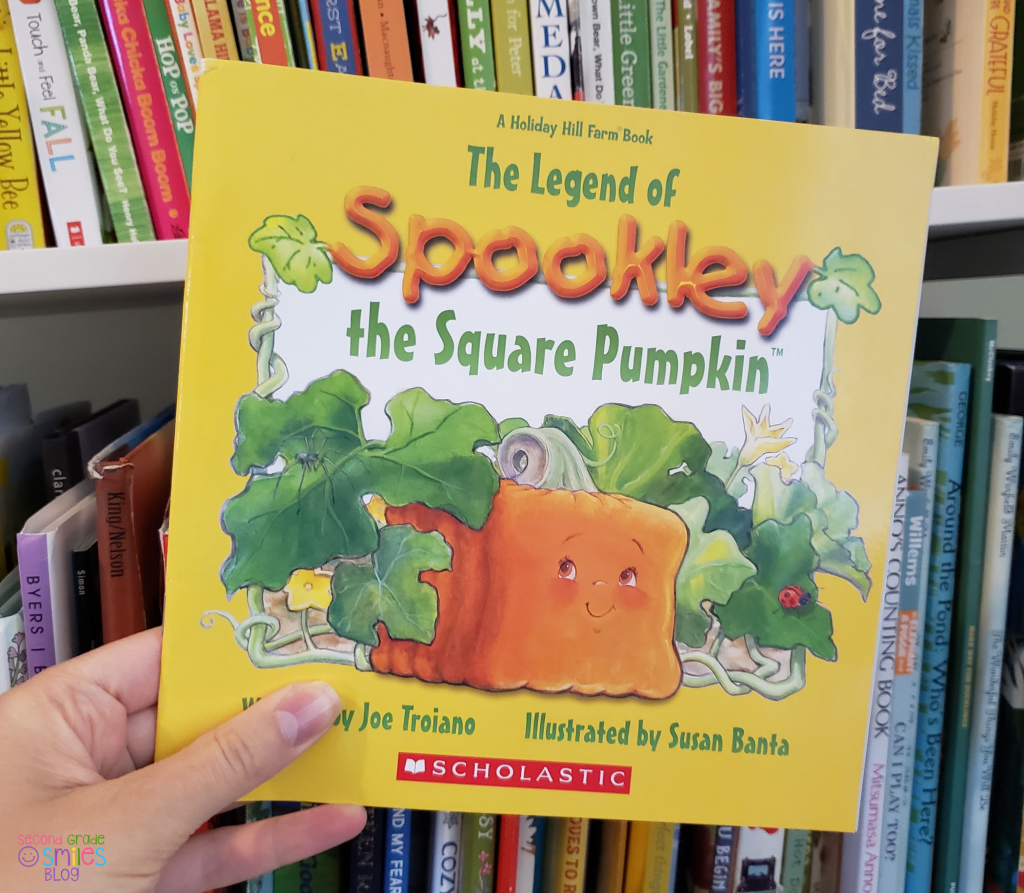 One day on this pumpkin patch, a strange little pumpkin hatched! Spookley was square rather than round like his pumpkin friends. At first, the other pumpkins tease him until a mighty storm blows through the patch and only Spookley can save the day! This October read aloud has a powerful message about celebrating differences and your students will love writing about which pumpkin they would choose from Spookley's very unique pumpkin patch.
This rhythmic, rhyming tale begins with a witch and her cat flying through the sky on a broomstick when suddenly the wind picks up and blows away her hat, then her bow, and then her wand! Fortunately, a trio of helpful animals come to her rescue. One by one, she invites each to join her on the broom, but their peaceful ride doesn't last long. The group faces one mishap after another when the broom snaps in half and the witch is captured by a hungry dragon! Repetitive phrases and predictable rhymes make this read-aloud one my students have loved to join in on as we read. After reading, they've loved to draw and describe their own truly magnificent brooms.
Deep in the woods, in an old white cabin, three animal friends make their pumpkin soup in just the same way each day… until one day duck wants to stir the soup rather than tip in the salt! A terrible squabble ensues and ends with duck storming out of the cabin. When hours tick by and duck doesn't return, cat and squirrel set off to search for him, fearing the worst. This book is filled with rich illustrations and some versions even include a recipe for pumpkin soup at the end. Although the story ends on a happy note, the author alludes to a brewing new problem with duck picking up cat's bagpipes. Students will enjoy writing and illustrating a continuation of the story.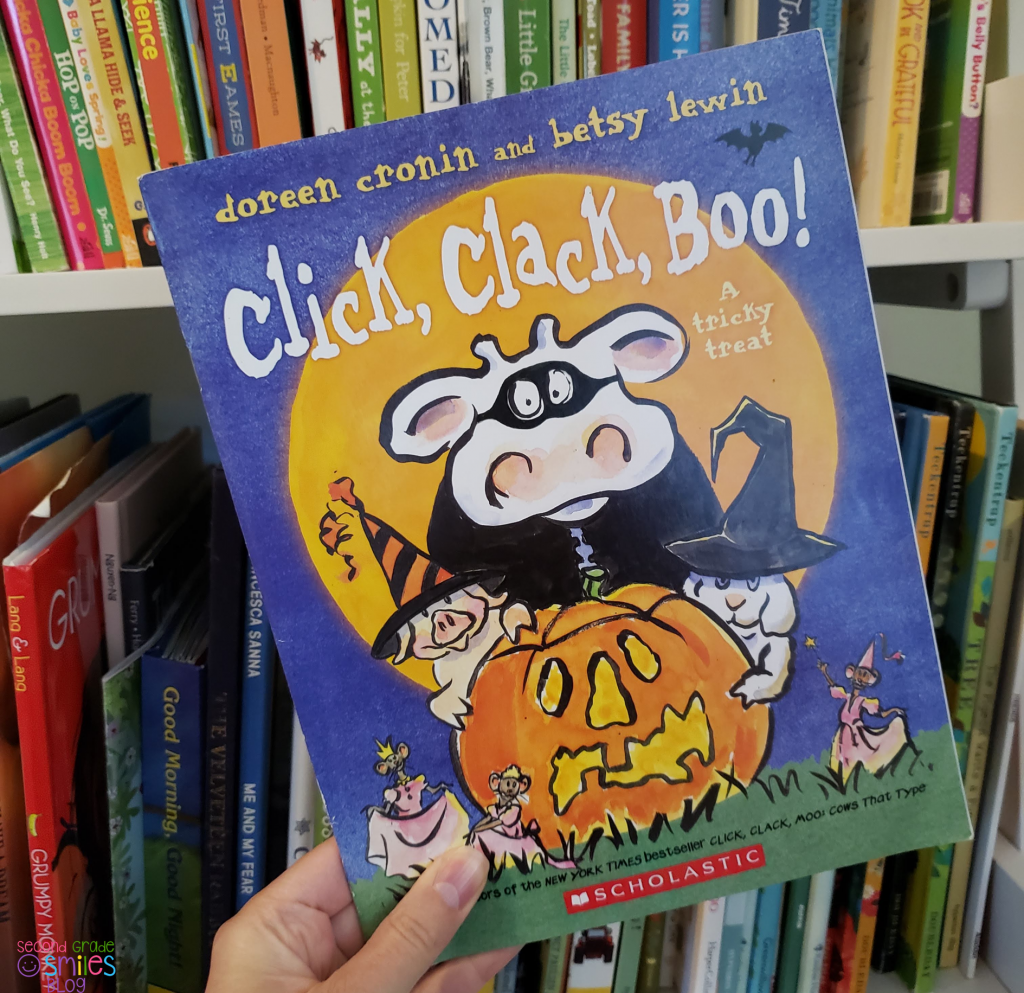 If you've read any of the other books in Doreen Cronin's Click Clack series, your students will likely remember mischievous Duck and grouchy Farmer Brown, who also take the lead in this Halloween tale. Farmer Brown does not like Halloween and plans to spend Halloween night curled up in bed with the doors locked. Duck, however, has a plan to lure him out to the barn animals' Halloween party. This book is full of ear-catching onomatopeia and will have your students laughing at Duck's antics. Follow it up with a fun opinion writing prompt. Which animal do they think deserves the best costume award?
Ready to Get Reading and Writing?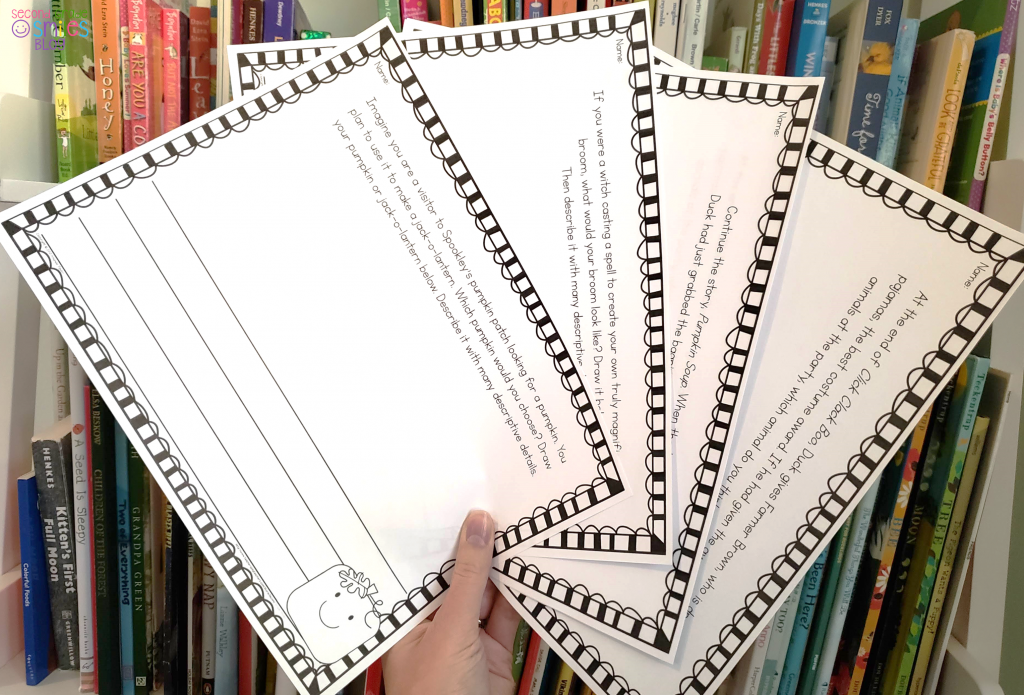 Click here to sign up for my email list and get a printable writing prompt to accompany each of the October read alouds shared above sent to your inbox! That's four free October writing prompts in all! You'll find two versions of each prompt page — one with dotted handwriting lines and one with plain lines. The final two pages in the set can also be copied onto the back of any prompt to allow for additional writing space. I hope your class enjoys these read alouds and prompts as much as mine have!
If you have a favorite October read-aloud, I'd love to hear about it in the comments. I'm always eager to add to my bookshelf! Searching for more ideas for October classroom fun? Head over to this post, which is filled with fun ideas for teaching adjectives in October!
Happy teaching,