A daily Number of the Day routine is a great way to build mental math skills and review key number sense concepts and standards on a daily basis. Many teachers have thoughtfully incorporated these routines into their school day for years, but when teaching turned digital those routines fell away. This is your step-by-step guide for how to successfully bring back Number of the Day in a distance learning environment by developing a digital number of the day routine!
1. Create a Template
Your first task in preparing a digital Number of the Day assignment is to prioritize the standards you'd like to focus on and create a template. You can create your template by making a Google Slide featuring your areas of focus. You'll save your template as an image, insert it into the background of a new slide, and place text boxes in the space where students type in their responses. Be sure to leave a blank space to add in a new number of the day each morning!
If you're not so tech-savvy or are pressed for time, you can find a set of fifteen digital number of the day templates in my Teachers Pay Teachers store. These are ideal for first and second grade. They cover core concepts like base ten block modeling, expanded form, comparing numbers, skip counting, and mentally adding and subtracting 10 and 100. Options for practice with 2-digit, 3-digit, and 4-digit numbers are included. You'll only need to type in the number of your choice in a provided blank to get started!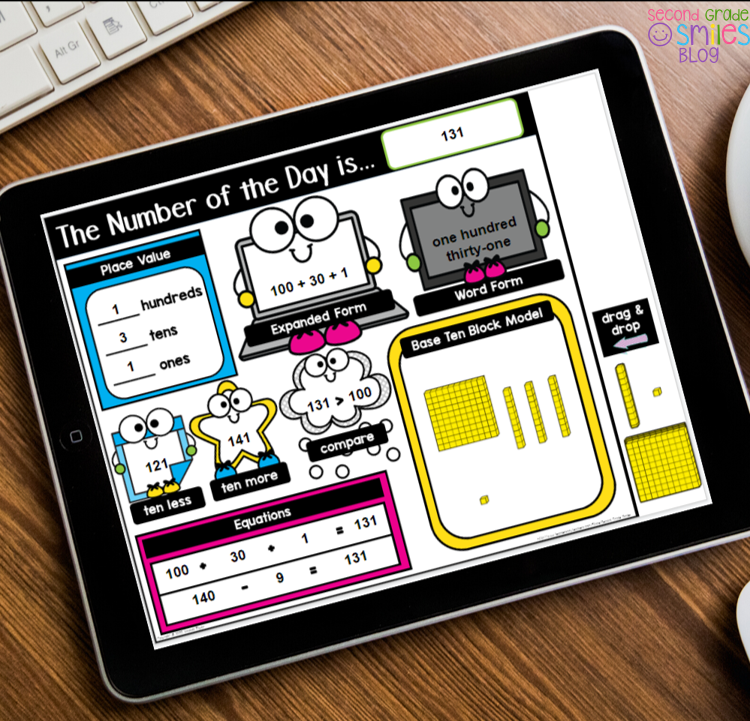 2. Model, Model, Model
When teaching any new routine in the classroom, modeling is key. Digital routines are no different! Pull up your digital Number of the Day template in Google Meet or Zoom and share your screen. Demonstrate how to complete the Number of the Day tasks before you assign them as independent work. This is a great time to point out that many sections of the slide may have more than one correct answer. Ask students to generate and share out additional possible answers.
If not all students can be present for a live demonstration, consider using a screen recording program like Screencastify to record your screen as you complete the routine with a sample number. You can share a link to your recording for students and parents to reference.
3. Create a Daily Assignment
When students are ready to work independently, prepare the assignment by making a copy of your template. Then add the Number of the Day of your choice. The number can be random or focused on a specific teaching point. For example, if I recently introduced counting groups of quarters and my Number of the Day template included a money model, I might choose 50 or 75 as a strategic Number of the Day knowing that that would give me an opportunity to quickly review that skill.
If you are creating your assignment in Google Classroom, be sure to choose to "make a copy for each student". This gives each child their own copy of the template to type into.

You may also find that it will save you time to schedule the entire week's worth of Number of the Day assignments at once. You can do this by clicking the drop-down menu beside "assign" in the upper right of your assignment and choosing "schedule".
4. Set Clear Expectations for Completion
Teaching time management for digital learning is HUGE! Students are being asked to demonstrate much more independence than would be expected in a typical classroom setting. They need our support and guidance! If your expectation is that each child have their Number of the Day warm-up complete before logging into your live session, you'll want to help students plan out when they will complete it. Help them to be successful by being consistent and timely in your posting of the assignment. (See the scheduling an assignment tip mentioned above to help with that.)
You'll also want to consider whether you'd like students to turn in the assignment to you for your daily review or if you'd like them to bring a completed assignment to your live session to discuss together.
5. Review Together
When possible, my personal preference is to review Number of the Day work live. It is a valuable opportunity for students to learn from one another and self-correct any errors. You can hold students accountable for completing their assignments in a live review by calling on students to randomly share out responses. I like to pull equity sticks like the ones shown below to help ensure that all have equal opportunity to be called upon. If you prefer a digital tool, check out this free random name picker from Flippity. Either way, this practice keeps students on their toes and ensures that you are hearing a variety of voices each day.
If you are choosing the live review option, I also suggest teaching students to split their screen. This will allow them to simultaneously view their Number of the Day work and your class Zoom or Meet session. This will take a few extra minutes. Teach them to log in early to get set up and be ready to go when class begins. If you have a digital open house or meet-the-teacher night planned, these are great skills to review with parents. They'll be a huge asset in helping things run smoothly!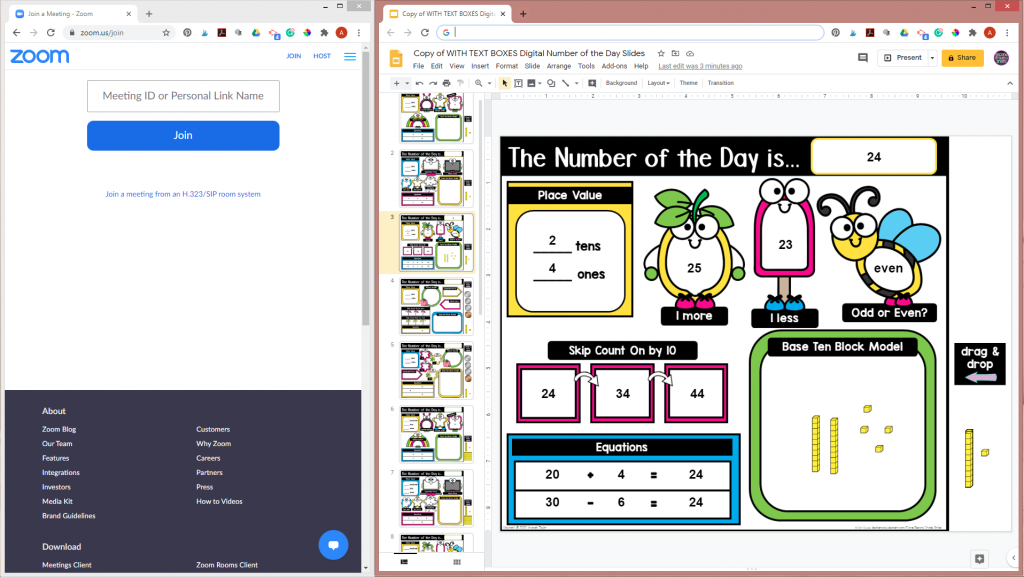 6. Switch It Up
As your students' number sense skills grow, you'll want your Number of the Day template to grow with them. Consider switching out your template at least every quarter of the school year to include new skills and challenges.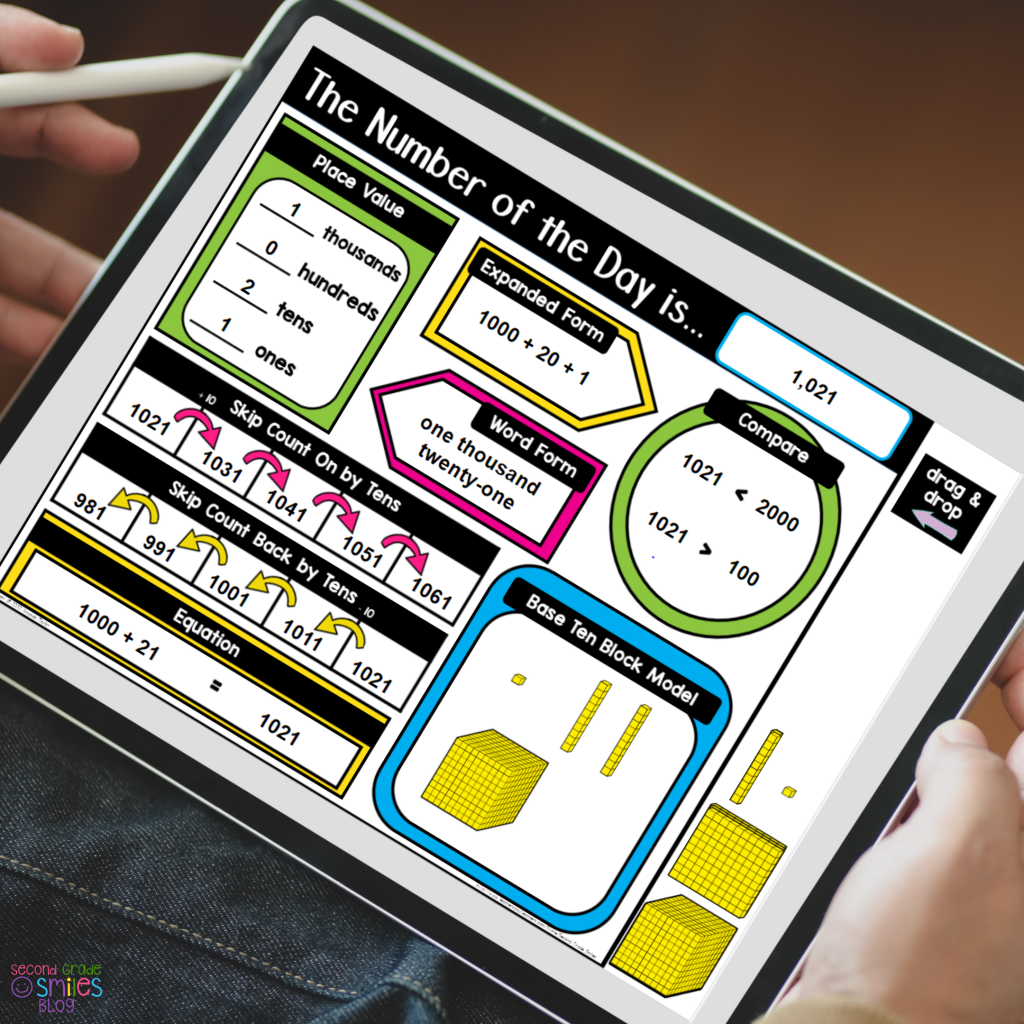 Do you have additional tips for incorporating a digital Number of the Day routine into your distance learning classroom? I'd love to hear them in the comments section below!
Looking for additional virtual teaching resources? You might want to check out my post on digital math manipulatives next. Thanks for reading!
Happy teaching,