You've heard it before – building relationships with students is key to both your students' academic success and successful classroom management. It makes sense. Students perform better and behave better for teachers who they feel a connection with, the people they know care about them and have made an effort to get to know them. If you've ever wondered exactly how to build those relationships as a classroom teacher, I'd love to share some simple strategies for building relationships with students that have worked well for me. If you are reading this a little later in the school year, no worries! It's never too late to build relationships! You can also find more relationship-building ideas for later in the school year in this post.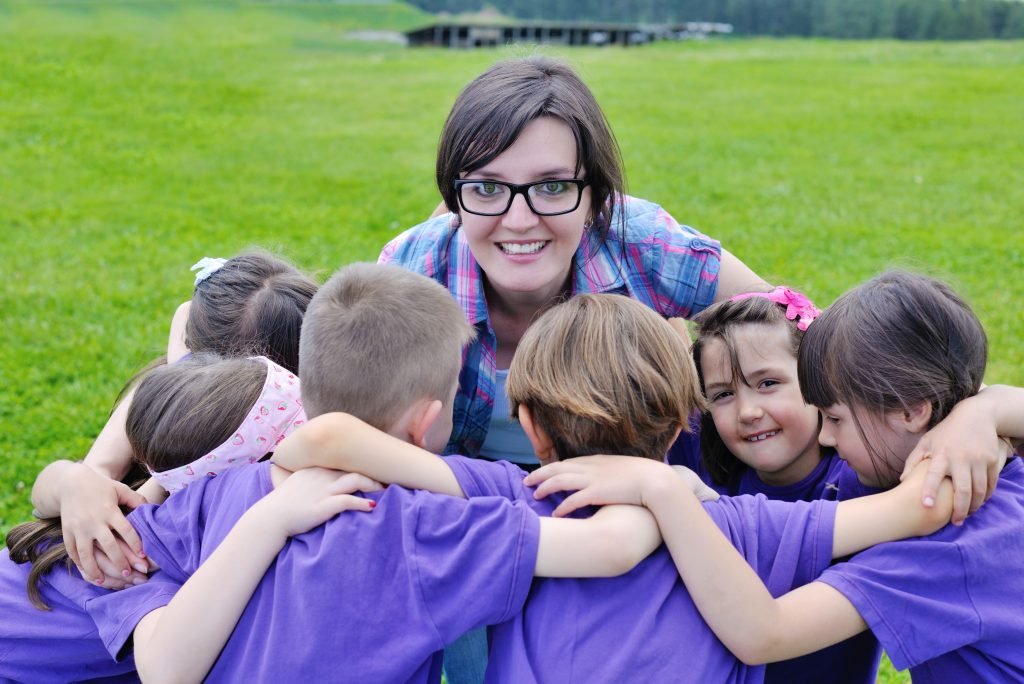 Learn Your Students' Names
This might seem like a no-brainer, but it is so important! I'm not just talking about recognizing names, but making the effort to learn to pronounce them correctly and ensure that you are calling each child by his or her preferred name. On the first day of school, ask your students to pronounce their names for you and to let you know if they have a preferred nickname they'd like to go by in class. One tip I've learned is to ask how the child's family pronounces his or her name. Sometimes the pronunciation they've been hearing at school isn't quite the same, but it should be! Write notes on the attendance. Try out the pronunciations and ask your students to correct you if you aren't getting it right. Practice until you've got it and expect your students to do the same. Everyone deserves to have their name said correctly in class and it will go a long way in helping your students to feel seen and respected.
Greet Students at the Door Every Day
Many students will take comfort in seeing your smiling face by the classroom door each morning. It's the perfect chance to start the day off on the right foot and also to notice if anyone is looking like they had a tough morning and might need a little check-in. Some teachers like to add a hand shake, hug, or high five. My kids come in carrying folders and planners, so I prefer to simply say "Good Morning" and pick a couple kids to speak to individually for just a moment. This is a great time to practice those names at the start of the year or quickly follow up on a conversation from another day. Ask how the soccer game went or how a child's sibling is doing in kindergarten. A comment that shows you are listening will go a long way in starting the day out on a positive note!
Listen to Families
No one knows a child better than that child's family. Take every opportunity to listen and ask questions when you get the chance to hear from them. Take notes when appropriate. I always like to sit down and jot down a few things I've learned about each child after our open house and between parent teacher conferences while everything is still fresh in my mind. Sending home family surveys can be another really simple way to gather information about your students from their families and continue building relationships. Grab this free editable printable survey to get you started! (Please note that the correct fonts are embedded and will work when downloaded and opened in PowerPoint, but will not display correctly in Google Slides.) Prefer to put your survey out through email or have parents complete it on a tablet at your open house? I've added a digital version of the survey in Google Forms too! (Please note that the link will prompt you to make a copy of the digital version. This copy is the version that you will be able to edit.)
Give Students Time to Share
Build in time for students to share about themselves. In my classroom, two students have an opportunity to share whatever they would like each day for exactly two minutes during our morning meeting. I set a timer and we work our way up and down the class list. I learn so much about my students during this time and my students really get to know one another. We also do a special share at the start of the year with this "Let the Cat Out of the Bag!" All About Me Bag activity. This may look like fun (and it is) but students are also working on valuable oral presentation and listening skills.
Use Duty Time Wisely
On lunch or recess duty? Rather than just passively observing, get moving and start chatting with your students! You'll learn a lot by noticing who they sit with at lunch and seeing them play at recess. Students will love to have you cheer them on as they tackle the monkey bars or complain to you about the cafeteria food. Keep an eye out for anyone playing or eating alone. Make an effort to find out why and see what you can do to help. It's a great opportunity to show you care and teach important social skills.
Share About Yourself
Students love learning about who their teachers are outside of school. Sharing about yourself also gives students the opportunity to make connections with you. From time to time, share a little bit about your weekend, your family, or your favorite hobby. Show a picture of your dog or tell a funny story about something that happened to you on your way to work. One easy way to fit this in at the start of the school year is to model an all about me activity, like this Get the Scoop Writing Activity, by filling in and sharing information about yourself before your students complete it.
Recognize and Build Student Interests into Your Lessons
Now that you know a little about what makes each child unique, use that knowledge to give students opportunities to be experts or be the star of your lesson in a small way. This can be as simple as writing a math word problem with a student's name and favorite hobby worked in or asking your resident dinosaur expert to help you remember if the Jurassic or Triassic period came first. You'll be showing you were listening and they'll love having a chance to shine!
A Back to School Challenge
Starting a new school year? Build relationships with students right from the start! By the end of the second week of school, challenge yourself to know at least three things about each child. Then go through your class list and test yourself. If you can't name three things about a student, make sure to take as many opportunities as you can to connect the next week. You'll be well on your way to building strong relationships with your students that will last all year!
Happy teaching,