Spring is my favorite time of year in the classroom. My students are really starting to gain independence and some basic research skills. They now know how to search safely online and how to use a table of contents and index to find information. It's the perfect time to put those skills to use at an inquiry-based learning science center! I call this center our "Mystery Creature" inquiry center.
This post contains Amazon affiliate links. This means I may earn a small commission at no additional cost to you should you choose to purchase a classroom material or resource through my link.
What are Mystery Creatures?
Off to the side of our typical center rotation tables, I create a "mystery creature" inquiry area with interesting specimens for students to observe and research. Each specimen is placed without explanation of what it is. Students are only given instructions for how to safely handle and observe it. When choosing items to display, I look for things that connect to the natural world and will spark curiosity.
In past years, the inquiry center has hosted caterpillars, ladybug larvae, praying mantis egg cases, and more. I've ordered several of these specimens from Insect Lore via Amazon, but also have included things I've found right in my backyard – like a snakeskin my dog found! Students and other teachers have also contributed to the inquiry center, bringing in birds' nests and even a small animal skull found under one student's back porch. (Our research determined that the skull most likely belonged to a small skunk!) Of course, any live creatures are safely released following our study.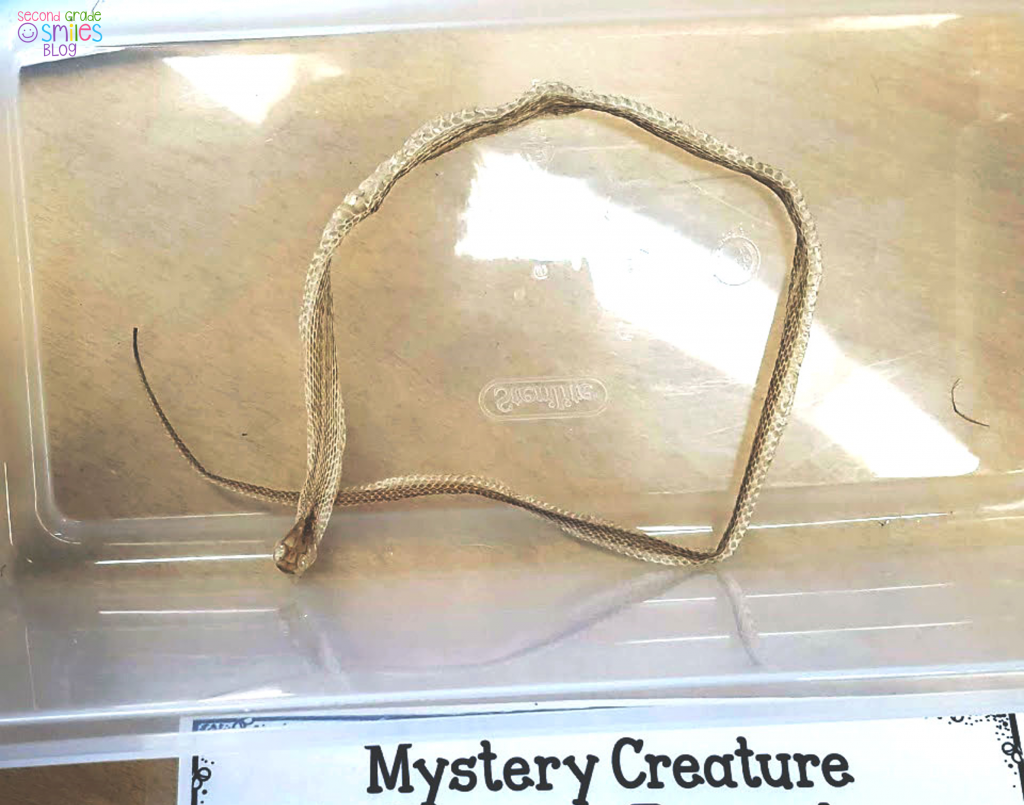 Observing, Questioning, & Researching
When visiting the inquiry center, students first take down detailed observations in inquiry journals. I spend some time modeling this and discussing the fact that scientific observers are as accurate as possible. I also model labeling sketches and including numerical data and timed observations. Students are provided with rulers, hand lenses, and sand timers to use as they observe. They brainstorm and record any questions that stem from their initial observations. From here, they continue to take observational notes. They also further research the answers to their questions by taking notes from provided books and internet searches.
Managing the Inquiry Center
When I introduce something new to the inquiry center, I typically allow students to start their mystery creature observations as a science center rotation for one day. From there, students are free to visit it and continue observations and research whenever their classwork is completed and done well. If students are visiting the center, they need to be taking notes and using quiet voices. I also limit the center to no more than four students at a time. From the point of introduction on, I will pull the mystery creatures back into the center rotation for everyone to see and observe anytime there is a big change to see, such as on the day our caterpillars began to form chrysalises or nymphs emerged from our praying mantis egg cases.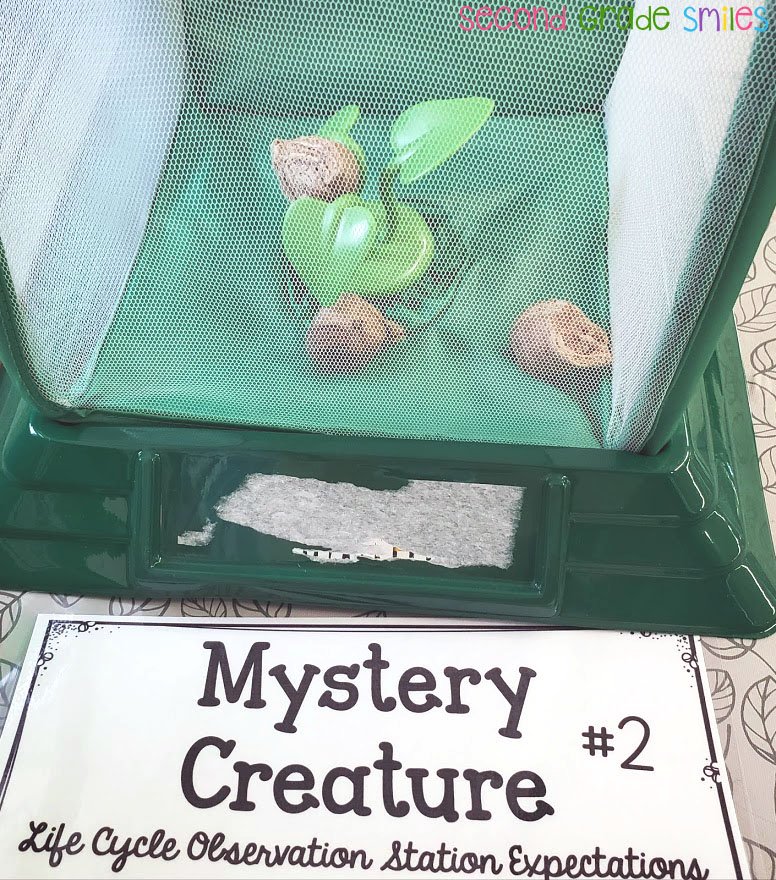 Time to Share, Debate, & Reflect
One of my favorite times of the day is our end-of-day inquiry check-in on the classroom rug. For these last few minutes of our school day, I ask students to share their mystery creature questions, hypotheses, and any evidence or research they have collected. They then take peer questions and comments. We also add to a two-column class chart of "What We Notice and What We Wonder". Students are so engaged and animated during this time. We've witnessed some great debates! It's also an ideal time to sneak in some quick minilessons that incorporate speaking and listening skills!
Getting Started
Think you'd like to give this inquiry-based learning center a try? Sign up for my email list and grab the free editable directions posters for your inquiry table and inquiry journal entry instructions here. You can also learn more about inquiry-based learning in this post on inquiry-based learning with a wonder wall.
Happy teaching,