As they begin to explore fractions, our second graders need to start with tangible, concrete representations. Providing hands-on experiences with fractions can provide powerful visuals and allow students to manipulate and experiment with these new concepts, making fractions come to life as students establish a basic understanding. You'll then be able to extend their knowledge, first through pictorial representations such as drawings, and later onto the abstract level of thinking, where they will begin to use written symbols to represent fractions. Here are a few fun ideas to help you incorporate hands-on fraction activities into your lessons!
This post contains Amazon affiliate links. This means I may earn a small commission at no additional cost to you should you choose to make a purchase through my link.
Partition with Playdough
Students can use playdough to form various shapes and partition those shapes into equal parts using a plastic knife. (Of course, you'll want to be clear about your expectations for using the knife safely.) Connect to representational and abstract representations by adding a recording sheet that allows them to then draw and label their work.
If you'd like to make this an independent center activity, my Playdough Fraction Task Cards can be used to guide your students while you work with other groups.
Connect with Unifix Cubes
Instruct students to connect Unifix cubes to build chains using specific fractions of various colors, such as a chain that is 1/3 blue and 2/3 red. When they are ready, you may like to try having your students practice in pairs as well. Partners can take turns building chains and writing down the fractional components of their partner's chains.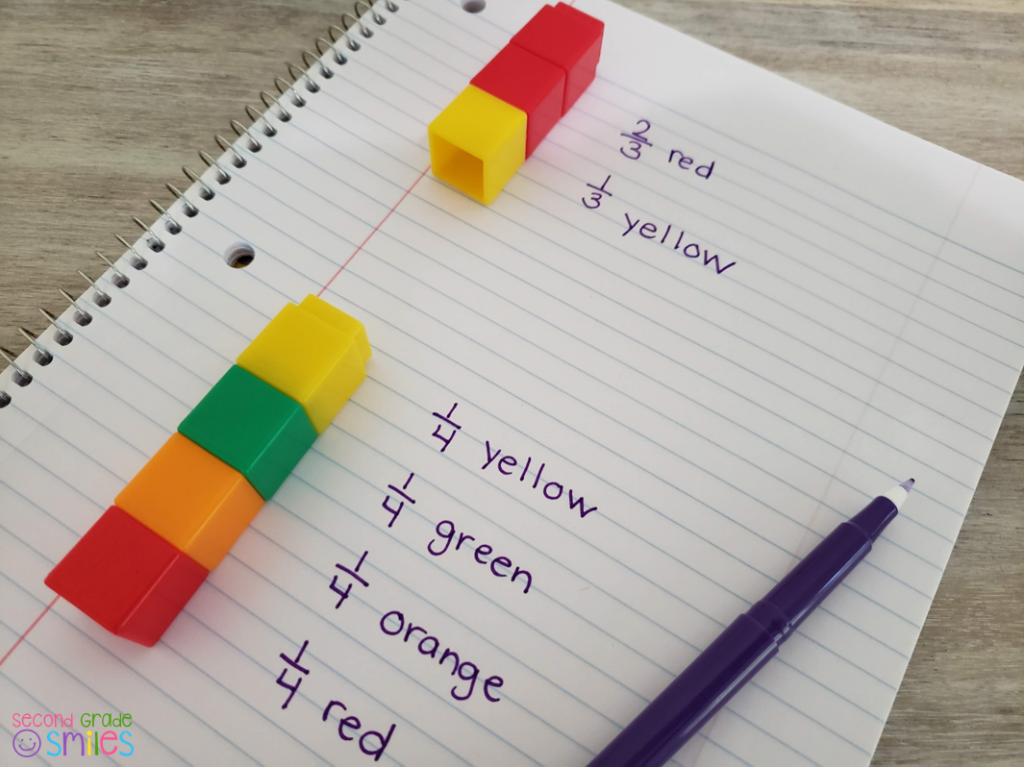 Build with Legos
Students can also show their understanding by building brick towers that you describe by naming their fractional parts. For a fun twist on this activity that again begins to connect to that abstract level of understanding, have individual students build towers and display them for the class. Classmates can then jot down the appropriate fraction to name each part of the whole while looking at the model.
You can extend this whole class activity to an independent math center using my Block Tower Fraction Math Centers.
Play a Game
Are your students ready to interpret and name pictorial representations of fractions? Pull out your favorite fraction partner games and watch your students put their new knowledge into action! From a very early age, children learn from games and play. Games motivate and capture students' attention and allow them to practice social competencies such as turn-taking and conversational skills. You'll learn a lot about what they know and understand about fractions by listening to their conversations and watching them work together, so don't forget your anecdotal notes notebook!
Sort with Scissors
Printable doesn't have to mean it's not hands-on! Cutting, sorting, and pasting pictures is also a great way for you to assess what your students understand and what they need more practice with when it comes to fractions. You'll find many options in this Fraction Cut and Pastes set.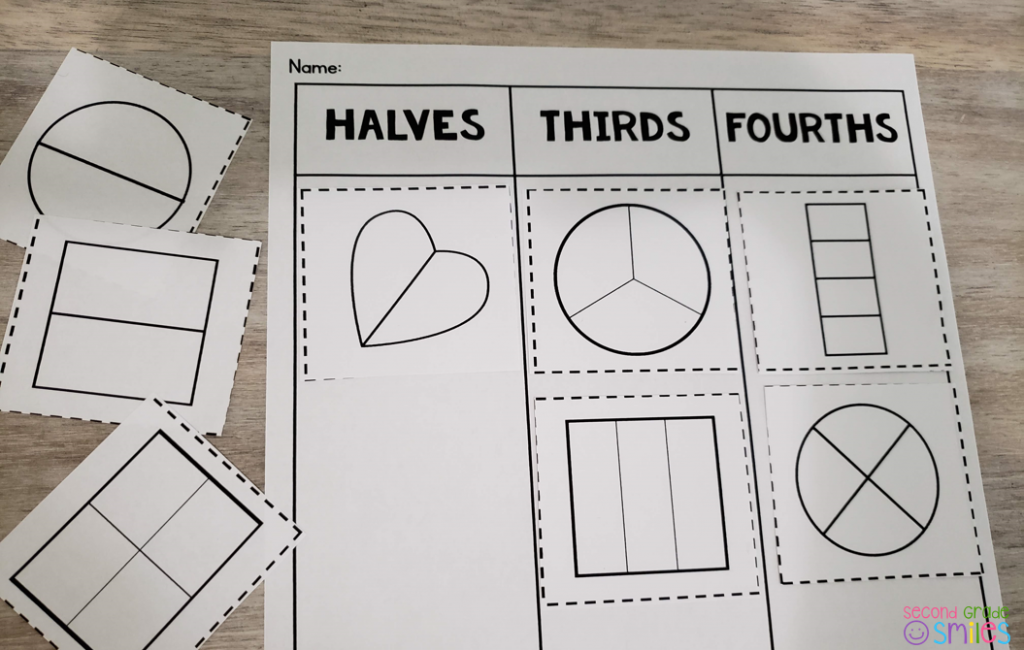 Sketch with Dominoes
When students are ready to create their own pictorial representations of fractions through sketching, consider using dominoes to generate fractions. Students can reach into a domino bucket, choose a domino, partition the shape, and sketch the fraction shown. (Be sure to go through your dominoes beforehand and choose fractions your students will be able to sketch successfully.)
The second grade Common Core Standard requires that students "partition circles and rectangles into two, three, or four equal shares". This activity will be a great formative assessment of that skill.
If you'd like to use this as an independent math center activity grab this free printable.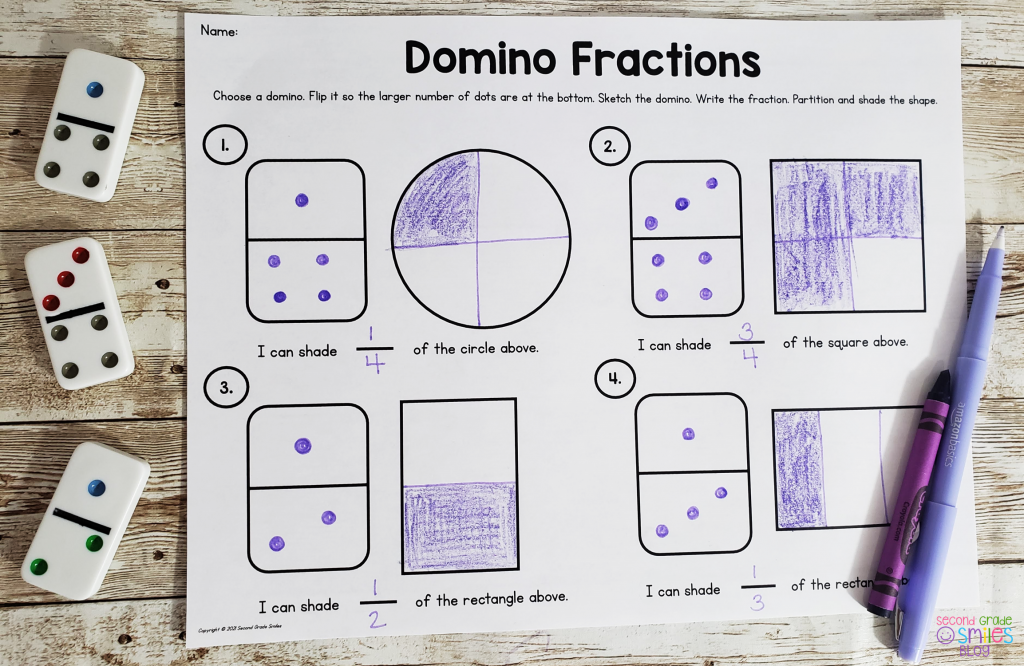 Bring It to Life with PBL
Project Based Learning experiences are a great way to connect fractions to real-life situations. Baking is a natural place to start and this Cookie Fractions PBL gets right at the partitioning piece of the standard. Here, students pretend to be working at a bakery designing cookies for a very picky customer. My class was totally engaged and worked carefully because the whole class was counting on them to get that cookie order right! If you'd like, you can bring in and enjoy the real thing as a special treat for a job well done! Yum!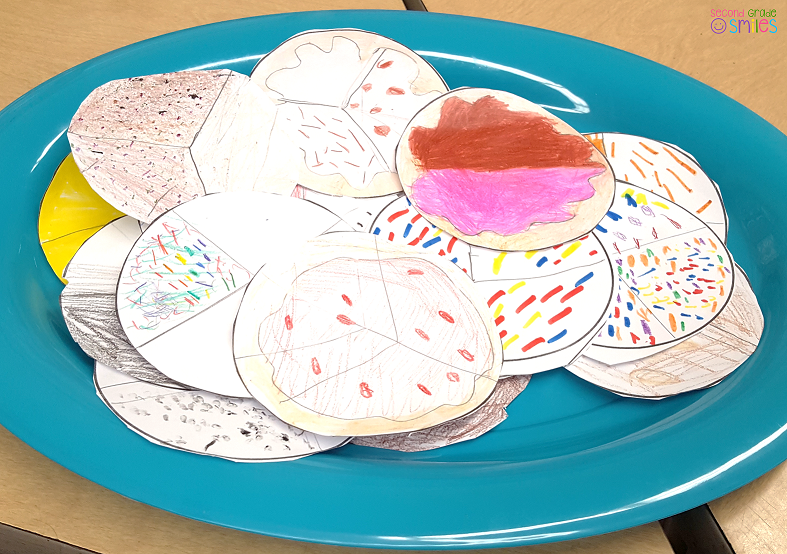 Craft and Write
Let them cut, paste, and color, and then have them write about it! Consider building and partitioning paper cakes, cookies, brownies, or my personal favorite, pizza. Then have students use fraction-related vocabulary to describe their creations. This is a great assessment option as it hits the Common Core Standard requirements explicitly with students both partitioning shapes and describing using fraction-related vocabulary. It makes for a cute bulletin board display too! Find the Build a Pizza printables shown below in here.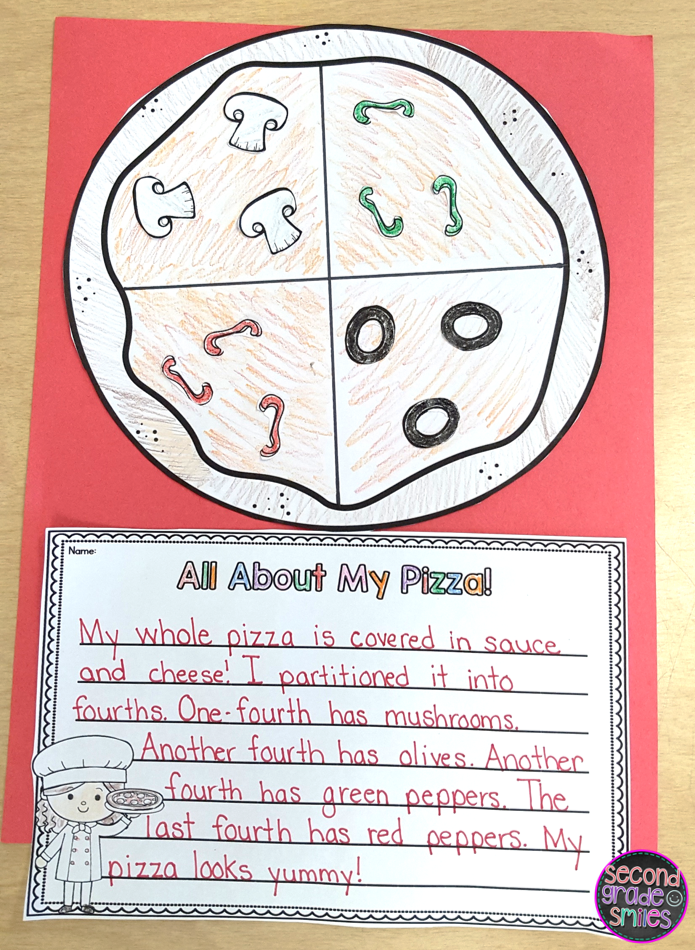 I hope you found some hands-on fraction activities you just can't wait to use in your classroom! If you give one a try, I'd love to hear about it!
Happy teaching,