Appropriate use and storage of all your classroom materials – from pencils to glue sticks to tablets – goes a long way in helping your classroom to be safe, organized, and smoothly run. Knowing where things are when you need them and being able to trust that they will be in good condition saves time. It also allows your students to be more independent in locating what they need. If you are purchasing your own materials as many of us do, it will save you money as well! One strategy for teaching appropriate material use and storage is incorporating guided discovery and clear, student-generated expectations.
What is Guided Discovery?
Guided discovery is a strategy for introducing classroom materials in a manner that generates student interest while also ensuring that expectations for that material's use, care, and storage are clearly stated and understood by all the students in your classroom. It fosters ownership over these expectations because they are student generated, modeled, and rehearsed. Students understand why expectations are in place and have an opportunity to demonstrate that they are able to meet those expectations from the very start. Here's what it looks like in my second grade classroom.
Naming and Noticing
To begin guided discovery, I briefly introduce and hand out each new material. Next, I give students a few minutes to carefully observe it at their seats. As they study the materials, they discuss their observations with a partner. Then, they jot down what they notice. You can have students complete this step in a notebook, or print out the booklet shown below from my Using Materials Appropriately pack on TPT.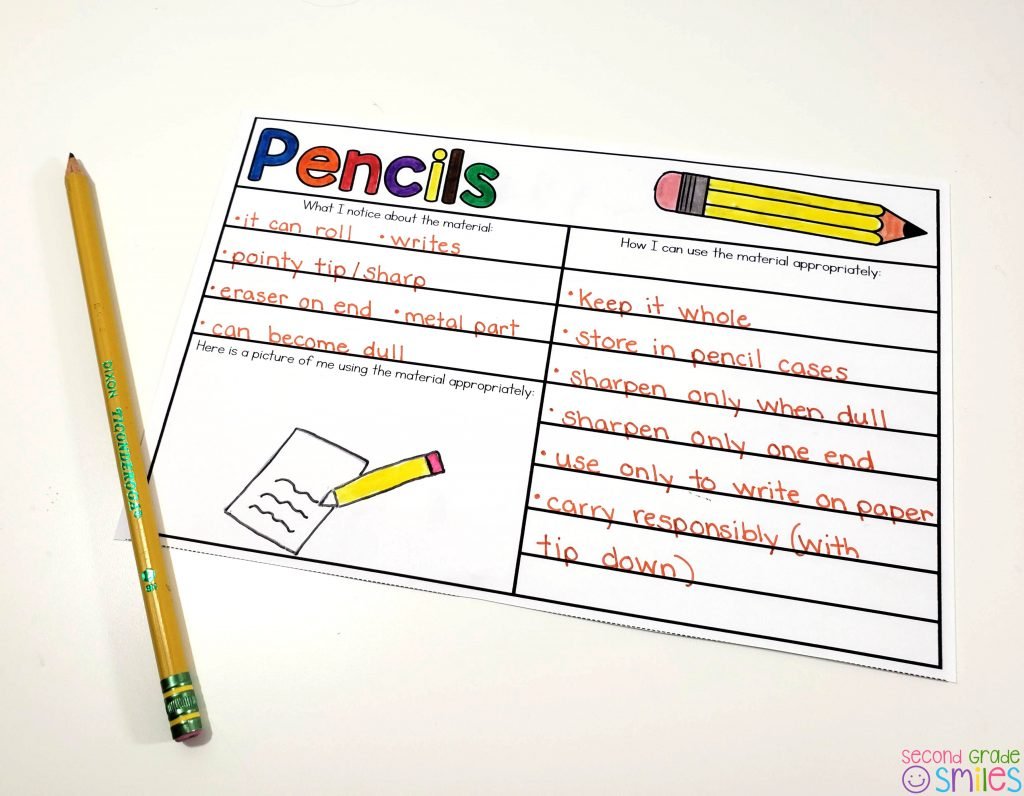 Next, students bring their pages to the rug, where we discuss these ideas together and I add them to the class chart. You can write your own chart headers, or purchase them here. It's always fun to see what students have come up with during this step. They often observe things I would never have thought of!
Brainstorming Appropriate Uses
For the next section of the chart, the class helps me brainstorm appropriate uses for the material. As I write those uses on the chart paper, they copy them into their booklets.
At this point in the process, it's important to remember to keep the conversation positive! Writing the ideas together allows me to help students to rephrase their thoughts into wording that expresses what they will do to use materials appropriately rather than what they should not do. I love having all of that recorded in the booklets. We can refer back to them anytime we need to review those expectations.
Supported Practice and Sharing of Work
After completing the guided discovery of each material, my students practice using the material appropriately by completing a fun classroom activity or craft. One example is my Super Student Craftivity. This is a perfect opportunity for students to demonstrate appropriate uses of pencils, scissors, glue, and crayons. It also makes for a fun open house display!
As students complete the activities, I make a point to praise those who are following the expectations. I will also occasionally snap a photo of someone who is a role model, print it out, and add it to the chart. This is an especially great opportunity to notice students who may have struggled to follow directions and/or meet classroom expectations in the past. Giving students a chance to see themselves as role models can be a great way to help them start the year off on a positive note and demonstrate your high expectations for them!
Have you used guided discovery with your class? I'd love to hear about it or answer any questions you may have in the comments!
Happy teaching,