Now more than ever, our students need our classrooms to be safe, calm spaces. I wanted to take some time today to share a classroom space that has helped me to successfully support students who may have had difficulty self-regulating or just occasionally needed time and space to regroup – my classroom's calm corner. Calm corners are also sometimes referred to as mindfulness corners. Either way, the goal is to create a safe space in the classroom for students to go to when they need time and space to self-regulate.
This post contains many free printable resources, and also a few Amazon affiliate links. I may earn a small commission at no additional cost to you should you choose to make an Amazon purchase through one of my links.
Setting Up a Calm Space
In my second grade classroom, my calm corner was known affectionately as "Alaska" – because it was a safe space for students to take a brief time out and cool down. I laid out a small blue rug beside my desk, making sure I could still see a student seated there but that the space still offered a little privacy away from student desks and work tables. I hung up some calming photos of the Alaskan wilderness to add to the calm vibe. (I'm sharing those as a free download for new newsletter subscribers here.)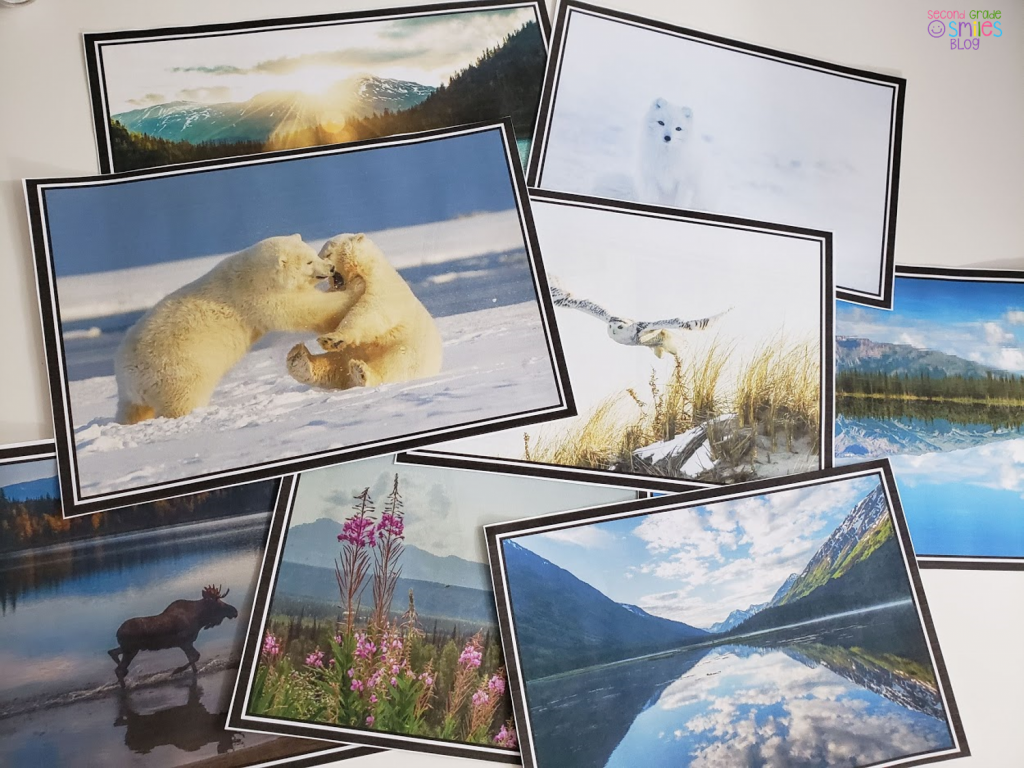 Building a Calming Caddy
Next, I grabbed a small bin and labeled it "Calming Caddy". I filled the bin with a few sensory tools students could use to help them to relax, such as a stress ball, playdough, and sand timers. I also included a few books – I Can Do Hard Things, I Like Myself, I am Peace, Quiet, and a beautiful landscape photography book I already had in my classroom library. This caddy gradually grew as students added in their own favorite calming tools and books throughout the year. You can grab your own free calming caddy label here.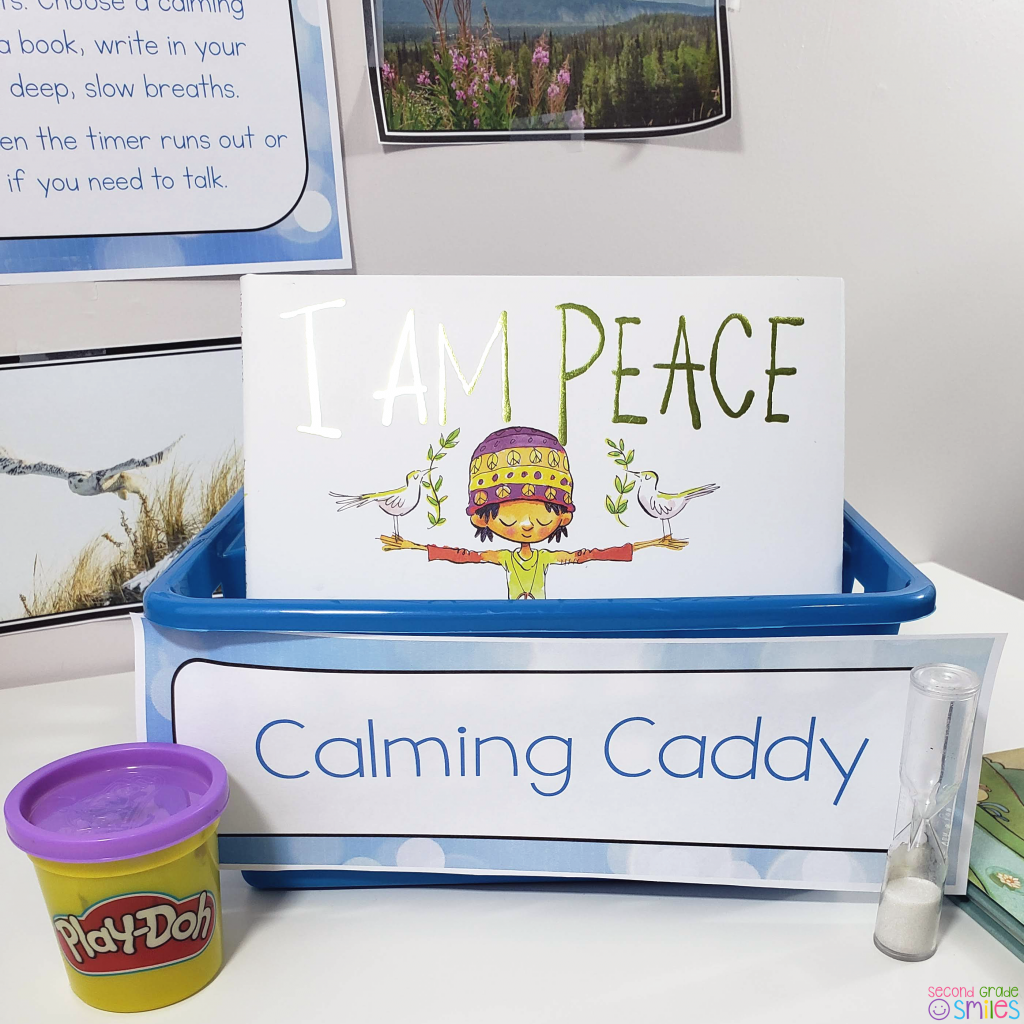 Introducing the Calming Corner
When I introduced the classroom calming corner to my students, I showed them the carpet and the calming caddy. We had a discussion about the fact that everyone has challenging days and moments and that there may be a time at some point in the school year when they need a few minutes away from the class. I allowed students to share a few examples of why that may be. We also talked about how our bodies and minds feel when we were calm compared to when we feel sad or angry. Then, I introduced the tools in the caddy. We also talked about and practiced strategies students could use in the space to help them to return to a calm state, such as taking deep breaths and slowly counting to 100.
I explained that I was sharing this space so that everyone could feel calm in our classroom. I was also clear that the calming corner should only be used when needed and that it is important that students return to learning as soon as possible. We then worked together to come up with a list of expectations for using the calming corner. I then typed their ideas onto free, editable this template and hung them up in that space.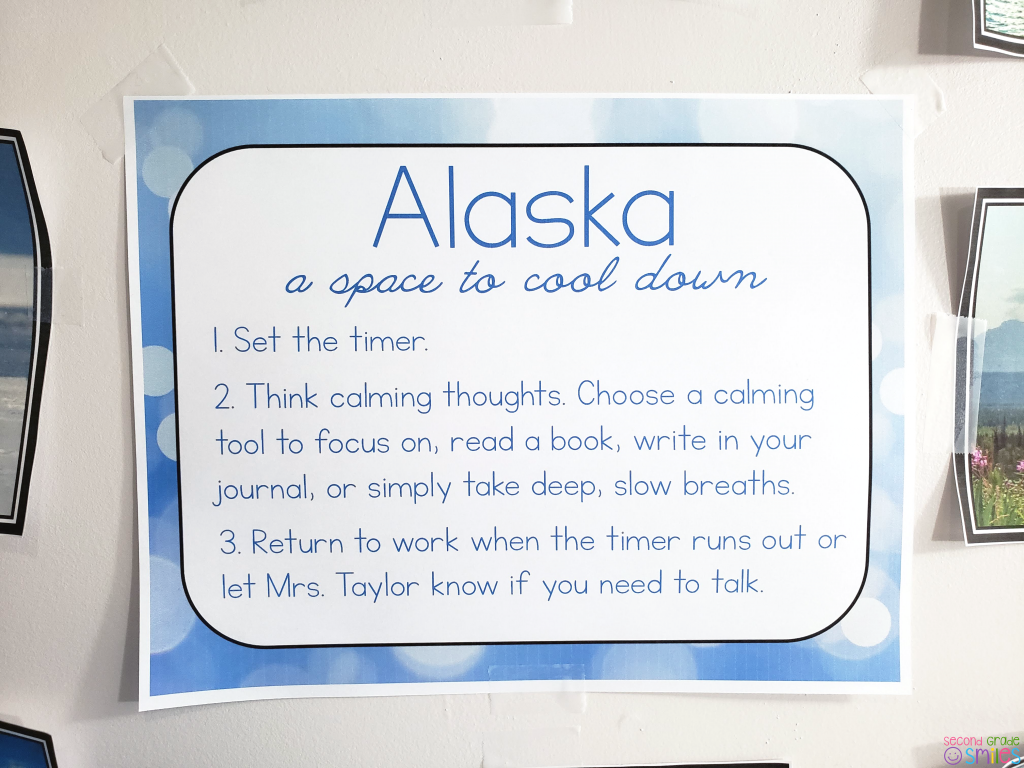 We also discussed the expectations for the rest of the class when a student was using the calm corner. Students pledged to keep working and give their friends space and privacy to get calm. Finally, I chose a student to model use of the calming corner while everyone practiced following all the expectations agreed upon.
Adding Calm Thoughts
Following the introduction of the calm corner, each student created a page for our "Our Calm Thoughts" class book. I gave each student a blank page and gave the option to draw anything that would make them feel calm to see or to write about a memory or place that left them feeling calm. I compiled all these pages into a class book and added it to the calming caddy. Students using the calm corner were free to visit their own page or peruse those of their classmates. If you'd like to create your own book with your class, you can find a free printable cover page here.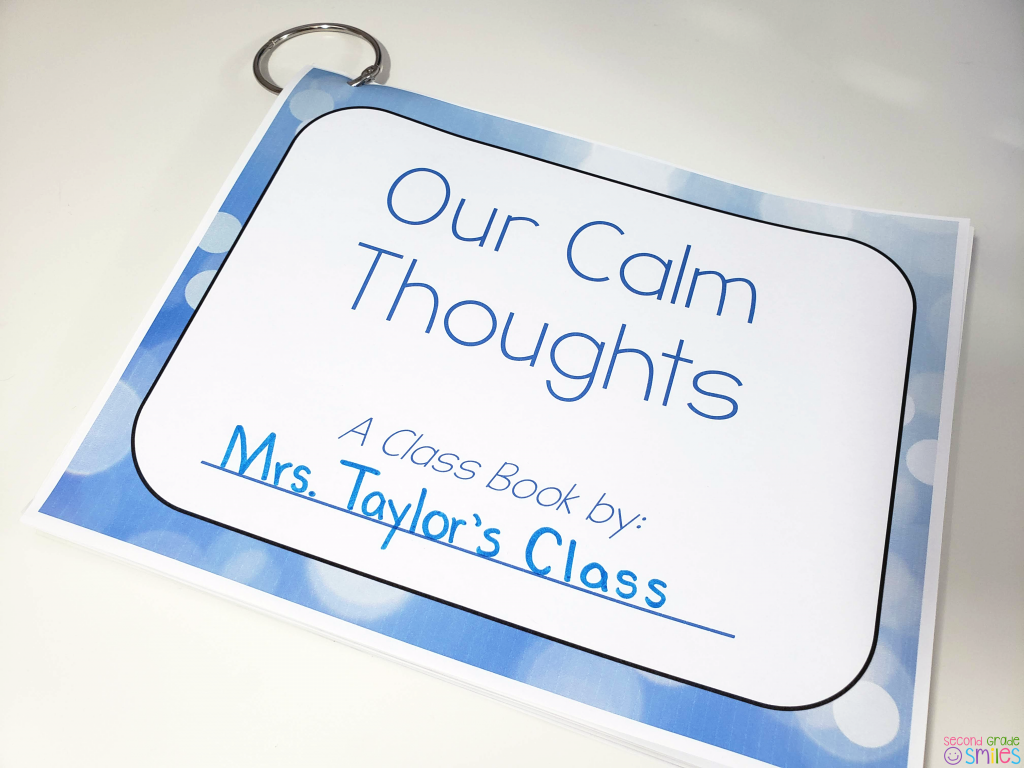 Following Up
Time spent in a calm corner is certainly not a substitute for a teacher check-in. If a student is feeling big emotions that are interfering with learning, they need your support. Whenever a student utilized the calming corner, I did my best to find time to check in with him or her shortly after. I also encouraged students to write to me in their journals in the calming corner if they wanted to share their feelings. Anytime there was a need for further support, I brought in our school adjustment counselor.
Creating safe, calm school spaces and fostering social-emotional wellbeing takes thought and effort. Creating a classroom calm corner is just one small way to foster this kind of environment in your classroom. If you give it a try and find it helpful, I hope you'll share your experience in the comments. I'd love to hear from you!
Each free resource has been linked above in the relevant section. However, if you'd prefer a single-click download, you'll also find all the resources included here.
Looking to continue to establish a calm, welcoming classroom environment by incorporating flexible seating? Check out this post next!
Happy teaching,